JM Family Enterprises Names

Chanel Barrett

as the 2021 Jerome Edmund Gray Youth Achiever
September 13, 2021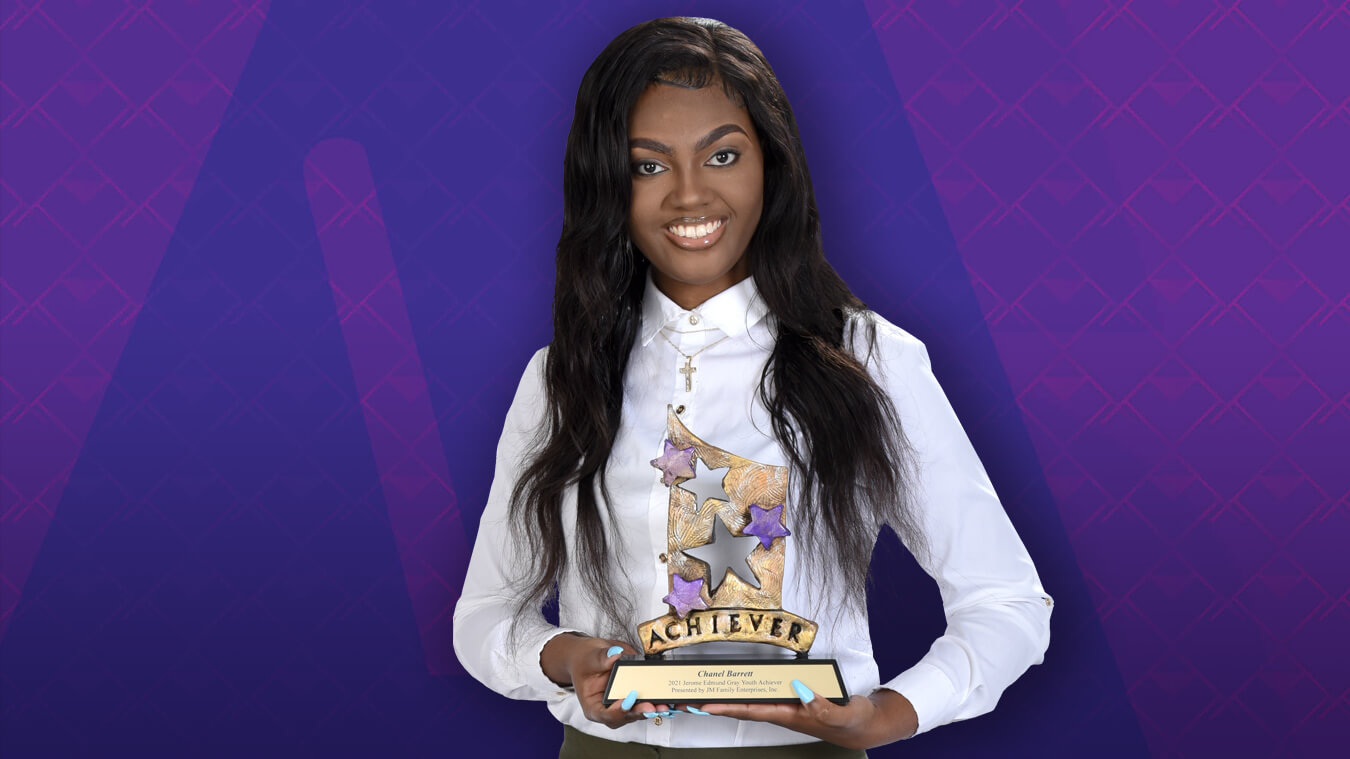 Nova High School student to receive a four-year scholarship to Florida State University
Chanel Barrett, a Lauderhill resident and recent graduate of Nova High School in Davie, Florida was named this year's Youth Achiever and received a full-ride to Florida State University as part of the annual African-American Achievers awards program. The distinction was presented by JM Family Enterprises, Southeast Toyota Distributors and JM Lexus.
"It is an honor to be named an African-American Youth Achiever. I am proud to be aligned with an organization that highlights and exemplifies the achievements of African-Americans. I know that being born black can mean that I have to work harder to get what I want, and this scholarship gives me the means to do so," said Barrett.
Originally from Kansas City, Missouri, Barrett moved to South Florida during 2010 and became a role model to other students based on her philanthropic and scholastic pursuits. As an active member of her community, she maintained a regular volunteer schedule, committing time to Lauderhill Towne Centre Library and participating in the Lauderhill Youth Council Teen Leadership Workshop and the Lauderhill Virtual Intergenerational Program. She is passionate about causes that aim to help orphaned and displaced children who need food and a safe place to stay. All the while, the future finance major graduated high school with a high grade point average.
"I am inspired to study this major because I love math and have always been interested in how it affects the flow of finances in the business world. I hope to continue my education by attending grad school in the future," she explained.
The Youth Achiever award, named in memory of 1995 African-American Achiever Jerome Edmund Gray, recognizes a South Florida high school senior who qualifies for financial aid and has applied and received admission to FSU. In addition to a four-year scholarship, Barrett will receive a paid internship at JM Family or one of its businesses, a network of peers, including past Youth Achievers, dedicated support from college administration, connection to recruiters for mentorship and guidance, and access to Florida State's Center for Academic Retention and Enhancement (CARE).
"Through our African-American Achievers program we have had the pleasure of celebrating more than a hundred unsung individuals who have quietly made huge impacts on the lives of those around them," said Brent Burns, president and CEO, JM Family. "The Youth Achiever award gives us the opportunity to set the next generation on the path to making their own significant mark on the South Florida community and beyond."
Through the African-American Achievers awards program, JM Family and its subsidiaries have honored South Florida leaders for the past 29 years. The event was established in 1992 by automotive legend Jim Moran to recognize leaders for their exceptional contributions toward building stronger communities in South Florida. Due to COVID-19 restrictions, in lieu of the traditional awards ceremony, JM Family celebrated its most recent honorees and their respective contributions to shaping the community with the African-American Achievers Week of Achievement.
The 2020/2021 honorees include:
Arts & Culture – Traci Young-Byron
Business & Entrepreneurism – Ken Roland
Community Service – Marleine Bastien
Education – Danni Washington
About JM Family Enterprises
JM Family Enterprises, Inc. was founded by automotive legend, Jim Moran in 1968. It is a privately held company with $16 billion in revenue and more than 4,500 associates. Rooted in automotive and united in its strong culture and core values, JM Family is in the business of helping other businesses succeed. As a long-term partner, it is invested in its companies, associates and its communities. Driven by exceptional performance, current subsidiaries are in the automotive, financial services and franchising industries. Its family of companies includes: Southeast Toyota Distributors, JM&A Group, World Omni Financial Corp. (dba Southeast Toyota Finance), JM Lexus, DataScan and Home Franchise Concepts, a multi-brand franchise network consisting of Budget Blinds®, Tailored Living®, PremierGarage, Concrete Craft®, AdvantaClean®, Kitchen Tune-Up®, Bath Tune-Up™ and Two Maids & A Mop. JM Family has earned various awards for its culture, products and services, including 23 consecutive years on Fortune's 100 Best Companies to Work For list. Interact with JM Family on Facebook, Twitter, Instagram and LinkedIn.
About Southeast Toyota Distributors LLC
Southeast Toyota Distributors is the world's largest independent distributor of Toyotas. The company distributes vehicles, parts and accessories to 177 Toyota dealerships in Alabama, Florida, Georgia, and North Carolina and South Carolina. Dealers in this region sell approximately 20 percent of all Toyotas sold in the country. Headquartered in Deerfield Beach, Florida, its vehicle processing facilities are located in Jacksonville, Florida and Commerce, Georgia. Southeast Toyota Distributors is a subsidiary of JM Family Enterprises, Inc., a diversified automotive corporation ranked No. 19 on Forbes' list of America's Largest Private Companies. JM Family is also ranked No. 94 by FORTUNE® as one of the 100 Best Companies to Work For®, its 23rd consecutive year on the list.
About JM Lexus
JM Lexus, located in Margate, Florida, maintains state-of-the-art Service and Parts departments, as well as one of only a few Lexus Certified Collision Centers in the country. It is also a leader in environmental sustainability, employing a number of eco-friendly business practices such as solar power, efficient lighting and modern paint technologies to offset its carbon footprint. The JM Lexus Certified Pre-Owned Department offers a wide range of makes and models with the dealership's standards of excellence. JM Lexus's unique model offers guests a dedicated consultant, up-front transparent pricing and no dealer fee. Learn more and interact with JM Lexus on Facebook, Instagram and Twitter.
JM Lexus is a subsidiary of JM Family Enterprises, Inc., a privately held company with $16 billion in revenue and more than 4,200 associates, which is headquartered in Deerfield Beach, Florida. JM Family has earned various awards for its culture, products and services, including 23 consecutive years on Fortune's 100 Best Companies to Work For list.
Media Contacts
Christie Caliendo
Director, Public Relations & Integrated Marketing