Renaissance Charter School at Tapestry Teacher Wins New American Hero Award
April 29, 2021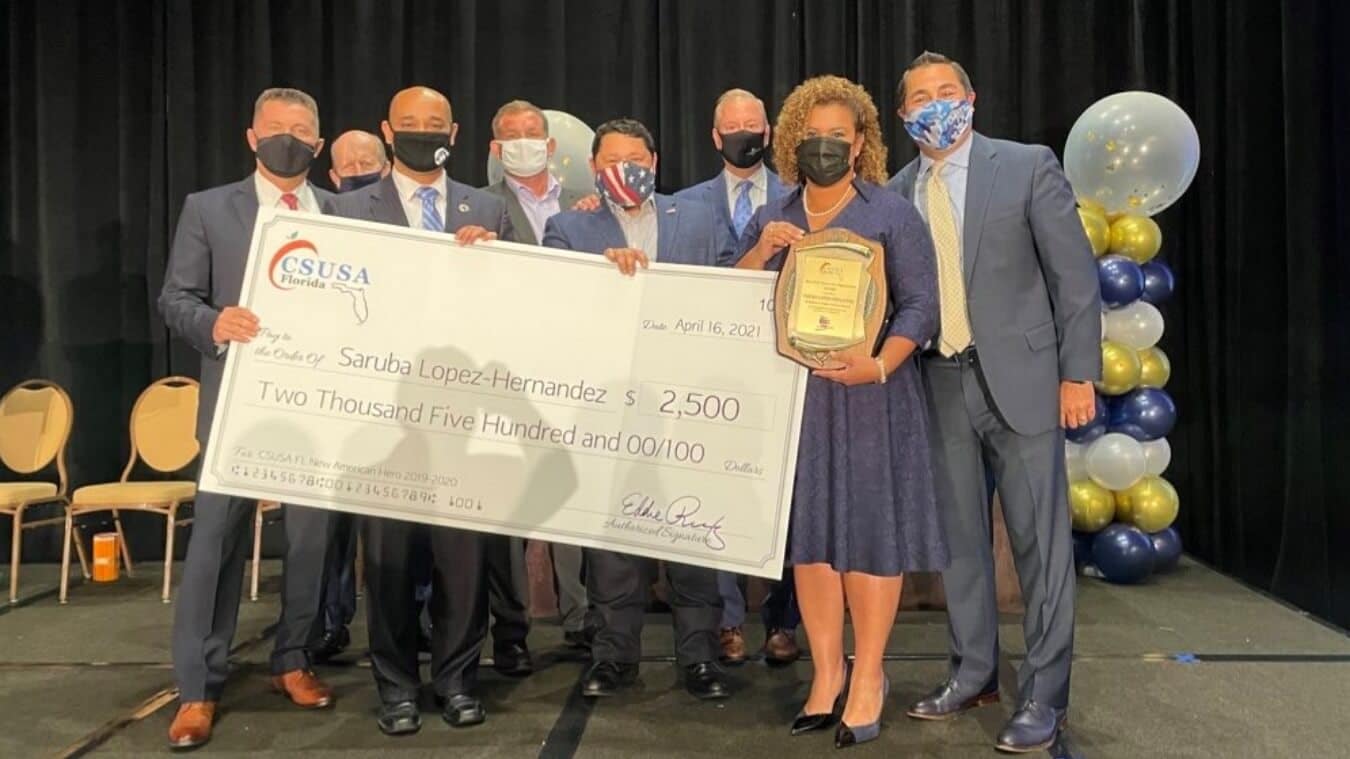 Saruba Lopez-Hernandez announced and honored at ceremony celebrating finalists
Saruba Lopez-Hernandez, seventh grade civics teacher at Renaissance Charter School at Tapestry, has been named Charter Schools USA's (CSUSA) New American Hero for her outstanding work over the past year. Lopez-Hernandez was selected among 64 nominees throughout the state of Florida. She was nominated by the school's principal, peers, parents, and students and became one of four finalists representing the four regions of Florida. Each New American Hero nominee receives $1,000 and the four finalists win an additional $500 and a plaque. The overall winner also receives $2,500 and a plaque. This year, JM Lexus of Margate, Florida added another prize – a two-year lease on a 2021 Lexus UX.
"Our decision this year was harder than most," said Eddie Ruiz, Florida State Director for CSUSA. "During the pandemic, we've seen so many of our teachers step up and become heroes beyond what any of us could imagine. The competition was extremely close, but the deciding factor was Mrs. Lopez-Hernandez's determination to overcome all odds and follow her passion to educate children. Her story touched the hearts of the committee."
She previously worked in one of the most difficult communities in Puerto Rico before moving to Florida. She never expected to be an educator, but after some twists and turns in her life there, she went back to school to study history after a 10-year career as an interior designer. When she moved to Florida, she started as a daily substitute teacher and within a few months became a permanent substitute, receiving a long-term assignment in an ELA classroom. The next year, she became a civics teacher and took the opportunity to finish the Teacher Certification Program with Teachers of Tomorrow. She is now fully certified in Florida.
Lopez-Hernandez is known for immersing her students into historical events, by dressing up in characters such as King George III, a patriot solder, a suffragette, a judge or Rosie the Riveter and bringing momentous occasions in history out of the text book and into the classroom. She also provides free after-school tutoring for her students to better prepare them for Florida Standard Assessments (FSA). Her efforts have yielded significant results. Her students, most of which are classified as English to Speakers of Other Languages (ESOL), scored in the 82nd percentile on 2019 FSA.
"As a civics teacher, the process of immigration and naturalization is part of what I teach to my students," said Lopez-Hernandez. "Being able to connect and help students understand what their parents are doing for their future and to help parents understand the processes and trust in the system is the purpose of my calling as a teacher, to build a better country. I believe that an educated empowered generation is capable of greatness in whatever they choose to do in the future."
"Mrs. Lopez-Hernandez is an incredible asset to Renaissance Charter School at Tapestry's teaching staff and CSUSA organization as a whole," said Sandy Owens, principal. "Along with being a stellar educator, she is a trusted leader amongst her peers. She is exemplary and is the ideal recipient of this award."
Since 2011, Charter Schools USA has recognized one teacher each year as its New American Hero. At that time, the New American Hero concept was developed to showcase the role of educators as those on the front-line against illiteracy and poverty, and as the heroes who serve as the mentors and leaders of our country's youth providing the educational foundation they need to achieve the American dream. That was then. This is now. As teachers took on unprecedented challenges and proved to be among the elite and most appreciated essential workers during the pandemic, the title of New American Hero took on new meaning.
That was also why JM Lexus decided to become involved in the award this year.
"JM Lexus is honored to partner with Charter Schools USA to recognize a teacher from their network with the New American Hero Award. Teachers are always deserving of our appreciation but this year especially we want to thank them for going above and beyond to care for and educate our youth. We hope this award and two-year lease will serve as a reminder of our gratitude," said Mark Hoppe, vice president and general manager of JM Lexus.
Nominees were selected by a committee that reviewed all nominations and narrowed them down to one finalist from each of Florida's four regions. The committee then visited each finalist's classroom and conducted in-person interviews with them.
"I wish we could have awarded every one of the nominees and finalists with the grand prize," added Ruiz. "But I am so proud of Mrs. Lopez and am grateful to her commitment to helping her students achieve greatness."
Video of Mrs. Lopez-Hernandez picking up her new 2021 Lexus UX at JM Lexus on Thursday, April 29 can be viewed here.
About JM Lexus
JM Lexus, located in Margate, Florida, maintains state-of-the-art Service and Parts departments, as well as one of only a few Lexus Certified Collision Centers in the country. It is also a leader in environmental sustainability, employing a number of eco-friendly business practices such as solar power, efficient lighting and modern paint technologies to offset its carbon footprint. The JM Lexus Certified Pre-Owned Department offers a wide range of makes and models with the dealership's standards of excellence. JM Lexus's unique model offers guests a dedicated consultant, up-front transparent pricing and no dealer fee. Learn more and interact with JM Lexus on Facebook, Instagram and Twitter.
JM Lexus is a subsidiary of JM Family Enterprises, Inc., a privately held company with $18 billion in revenue and more than 5,000 associates, which is headquartered in Deerfield Beach, Florida. Interact with JM Family on Facebook, Instagram and LinkedIn.
Media Contacts
Christie Caliendo
Director, Public Relations & Integrated Marketing