New JM&A Group Insider Platform Provides Free Exclusive Content to All Dealers
July 27, 2020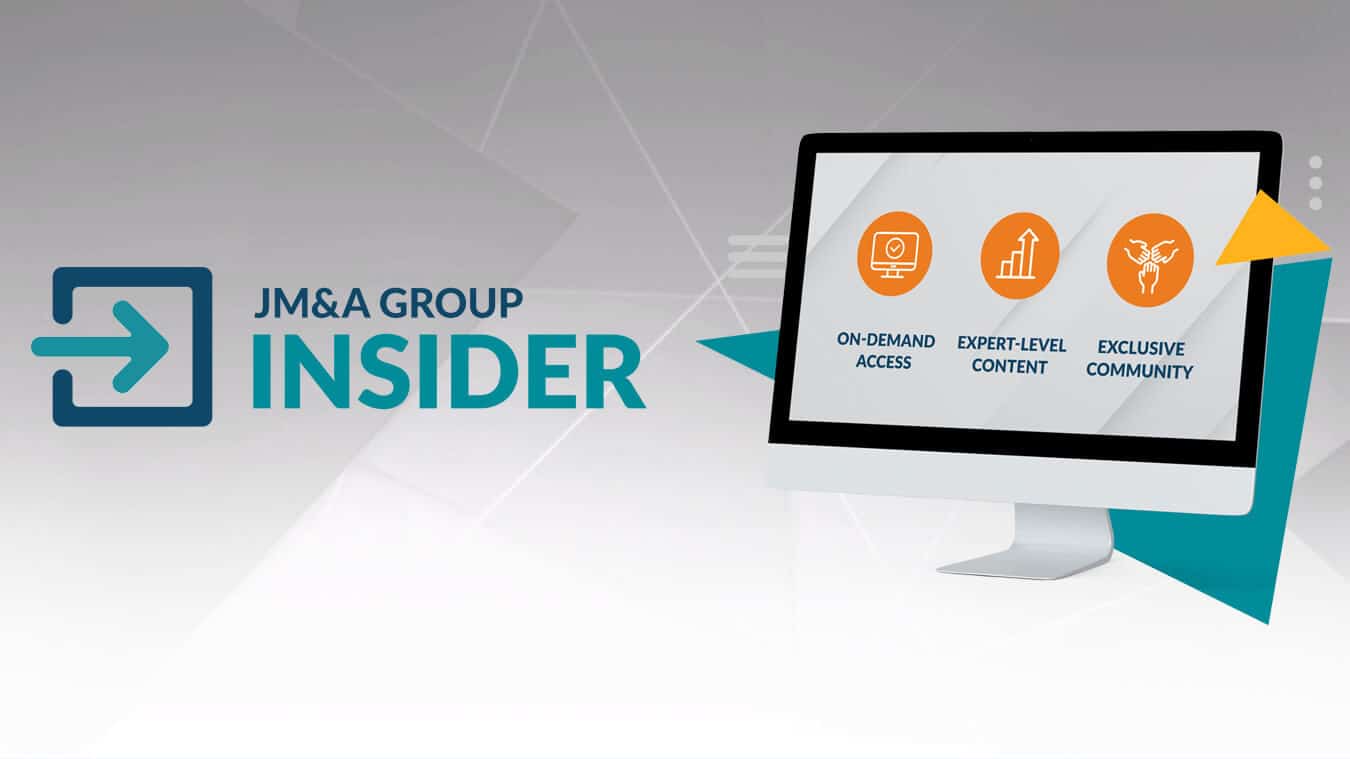 In an effort to further engage automotive professionals and provide valuable content, industry leader JM&A Group recently launched JM&A Insider, its own, on-demand collection of automotive resources. This website gives members access to JM&A Group's growing library of free, informative content. Membership is free and required to register for virtual events.
JM&A Group Insiders will be invited to view and download information from industry experts at any time through the company's new online platform. Content will include blog posts, playbooks on dealership growth and profitability and short video tutorials on a variety of topics, including F&I, fixed operations, training and sales and marketing.
"Our goal is to be a trusted resource and partner to the greater automotive community," said Scott Gunnell, group vice president, Business Strategy and Operational Excellence. "JM&A Insider will continue to grow and evolve as we collaborate with our vast network of industry leaders to add new, prescriptive content and adapt to the needs of our existing members."
In addition, the complimentary platform will host JM&A Insider Live Office Hours events hosted by leaders from various company divisions, giving members the opportunity to engage with subject matter experts and receive personalized advice for their queries. Timely automotive industry topics will include Virtual F&I, dealership talent solutions, fixed operations, team development and more.
For more information and to register to become a JM&A Group Insider, visit https://info.jmagroup.com/jma-insider.
About JM&A Group
JM&A Group, a leader in the F&I industry for more than 40 years, serves more than 3,800 automotive dealerships nationwide. Comprised of Jim Moran & Associates, Inc. (JM&A), Fidelity Warranty Services, Inc. (FWS), Fidelity Insurance Agency, and Courtesy Insurance Company, it provides a variety of products and services such as F&I training and consulting, vehicle protection plans, used vehicle certification programs, pre-paid maintenance plans and GAP programs. Additionally, the company has more than 800 associates, including a dedicated sales force of 300+ associates who support process implementation for dealer operations and digital sales strategies. National Truck Protection Co. Inc., a division of JM&A Group, is the leading vehicle service contract provider in the commercial truck industry and serves customers across a variety of channels throughout the U.S. and Canada including OEM, independent dealer groups, aftermarket truck resellers, agencies and direct-to-consumer. For more information about JM&A Group's products and services, call 1-800-553-7146 or visit www.jmagroup.com.
JM&A Group is a division of JM Family Enterprises, Inc., a privately held company with $18 billion in revenue and more than 5,000 associates, which is headquartered in Deerfield Beach, Florida. Interact with JM Family on Facebook, Twitter, Instagram and LinkedIn.
Media Contacts
Christie Caliendo
Director, Public Relations & Integrated Marketing