JM&A Group and J.D. Power Give Dealers the Leading Edge with the Rollout of Additional F&I Products
January 24, 2023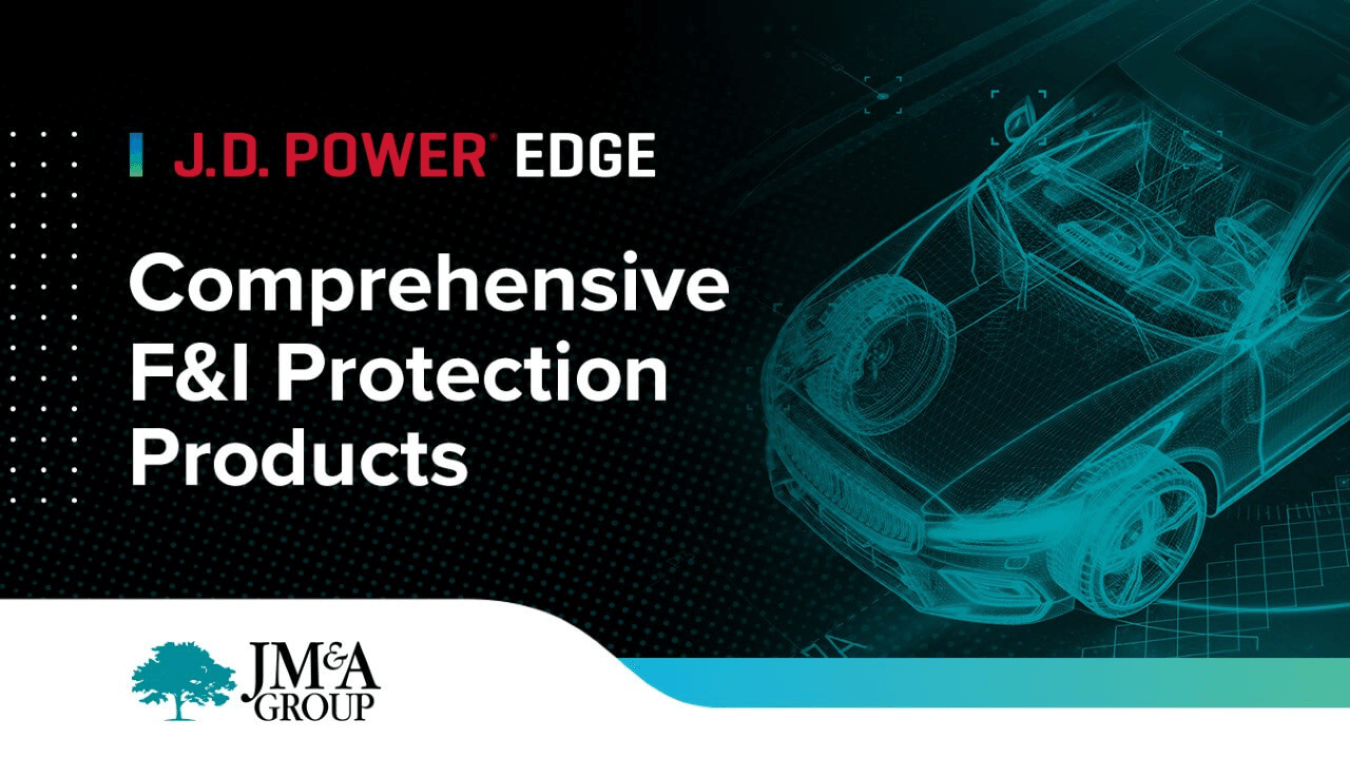 Companies Announce the Next Phase in Alliance with Expanded Products Tailored to Bolster Dealership Growth and Provide Consumers with Added Peace of Mind
JM&A Group, one of the largest providers of Finance and Insurance (F&I) products and dealer services in the automotive industry, along with J.D. Power, a global leader in analytics and consumer intelligence, have reinforced their strategic alliance with additional vehicle protection products under the existing umbrella of J.D. Power® Edge. The collaboration continues to inspire consumers with enhanced trust and confidence, benefiting from the pair's more than 100 years of combined dealer service.
"JM&A Group's focus is to accelerate dealership performance and help our customers stay competitive in a truly consumer-centric way," said Dan Chait, president of JM&A Group. "With the new J.D. Power® Edge products, dealers can drive interest among their customers by seamlessly plugging a trusted brand into their existing F&I process, allowing them to enhance consumer confidence."
Already, dealers enrolled in the J.D. Power® Edge Certified Pre-Owned* Program have experienced positive results in their Certified Pre-Owned and F&I performance with top dealers seeing increases in per vehicle retail (PVR) and service contract penetration as compared to other pre-owned vehicles.
"The addition of J.D. Power® Edge has been able to give our customers an added sense of ease from the moment they leave the dealership, knowing that they're going to be covered," says an F&I Manager at Encore Chrysler Dodge Jeep® Ram in Alabama. "A majority of our customers recognize the J.D. Power name, allowing us to give validity to the product suite and help alleviate any concerns they may have."
Through this unique alliance, which initially launched in 2021, JM&A Group has been able to pair its proven history of accelerating dealership revenue growth with J.D. Power's extensive automotive data and expertise. This combination has allowed the duo to collaborate on the jointly branded J.D. Power® Edge products, which are designed to build immediate trust and confidence for car-buyers nationwide.
The suite of J.D. Power® Edge offerings continues to grow with the addition of Vehicle Service Contracts and Vehicle Protection Products. These protection products allow for both online and in-person transactions to be offered to dealers nationwide.
Vehicle Service Contracts†
Comprehensive platinum and powertrain limited protection options on vehicle's mechanical and electrical systems
Up to 150,000 miles of coverage, depending on vehicle age and mileage
Feature alternative transportation coverage, towing coverage, travel breakdown reimbursements, and replacement fluids coverage
Can be included in vehicle financing
Allow for service at more than 6,000 authorized service centers throughout the U.S. and Canada
Vehicle Protection Products†
Comprehensive protection plans with various levels of coverage designed to fit individual consumer's needs. Depending on plan level, coverage may include, but is not limited to:

Repairs and/or replacements on tires damaged by road hazards
Cosmetic wheel damage repairs
Dent and interior repairs
Windshield repairs and/or replacements
Reimbursement for alternative transportation and roadside assistance
Looking forward, the two companies plan to offer select F&I training programs and opportunities. Additionally, J.D. Power and JM&A Group will collaborate on analytics projects to better leverage their collective industry insights. To learn more about the alliance, visit https://info.jmagroup.com/jd-power-alliance.
*J.D. Power® Edge Certified Pre-Owned Program is available in all states except for New York, where it is available as the J.D. Power® Edge Pre-owned Program.
†J.D. POWER® is a registered service mark of J.D. Power. | J.D. POWER® EDGE is administered by Fidelity Warranty Services, Inc. and operated by the Obligor.
About J.D. Power
J.D. Power is a global leader in data and analytics, advisory services and consumer insights. A pioneer in the use of big data, artificial intelligence (AI) and algorithmic modeling capabilities to understand consumer behavior, J.D. Power has been delivering incisive industry intelligence on customer interactions with brands and products for more than 50 years. The world's leading businesses across major industries rely on J.D. Power to guide their customer-facing strategies.
J.D. Power has offices in North America, Europe and Asia Pacific. To learn more about the company's business offerings, visit JDPower.com/business.
About JM&A Group
JM&A Group, a leader in the F&I industry for more than 40 years, serves more than 3,800 automotive dealerships nationwide. Comprised of Jim Moran & Associates, Inc. (JM&A), Fidelity Warranty Services, Inc. (FWS), Fidelity Insurance Agency, and Courtesy Insurance Company, it provides a variety of products and services such as F&I training and consulting, vehicle protection plans, used vehicle certification programs, pre-paid maintenance plans and GAP programs. Additionally, the company has more than 800 associates, including a dedicated sales force of 300+ associates who support process implementation for dealer operations and digital sales strategies. National Truck Protection Co. Inc., a division of JM&A Group, is the leading vehicle service contract provider in the commercial truck industry and serves customers across a variety of channels throughout the U.S. and Canada including OEM, independent dealer groups, aftermarket truck resellers, agencies and direct-to-consumer. For more information about JM&A Group's products and services, call 1-800-553-7146 or visit www.jmagroup.com.
JM&A Group is a division of JM Family Enterprises, Inc., a privately held company with $18 billion in revenue and more than 5,000 associates, which is headquartered in Deerfield Beach, Florida. Interact with JM Family on Facebook, Instagram and LinkedIn.
Media Contacts
Christie Caliendo
Director, Public Relations & Integrated Marketing