JM Family Enterprises Releases 2022 Corporate Impact Report
May 24, 2023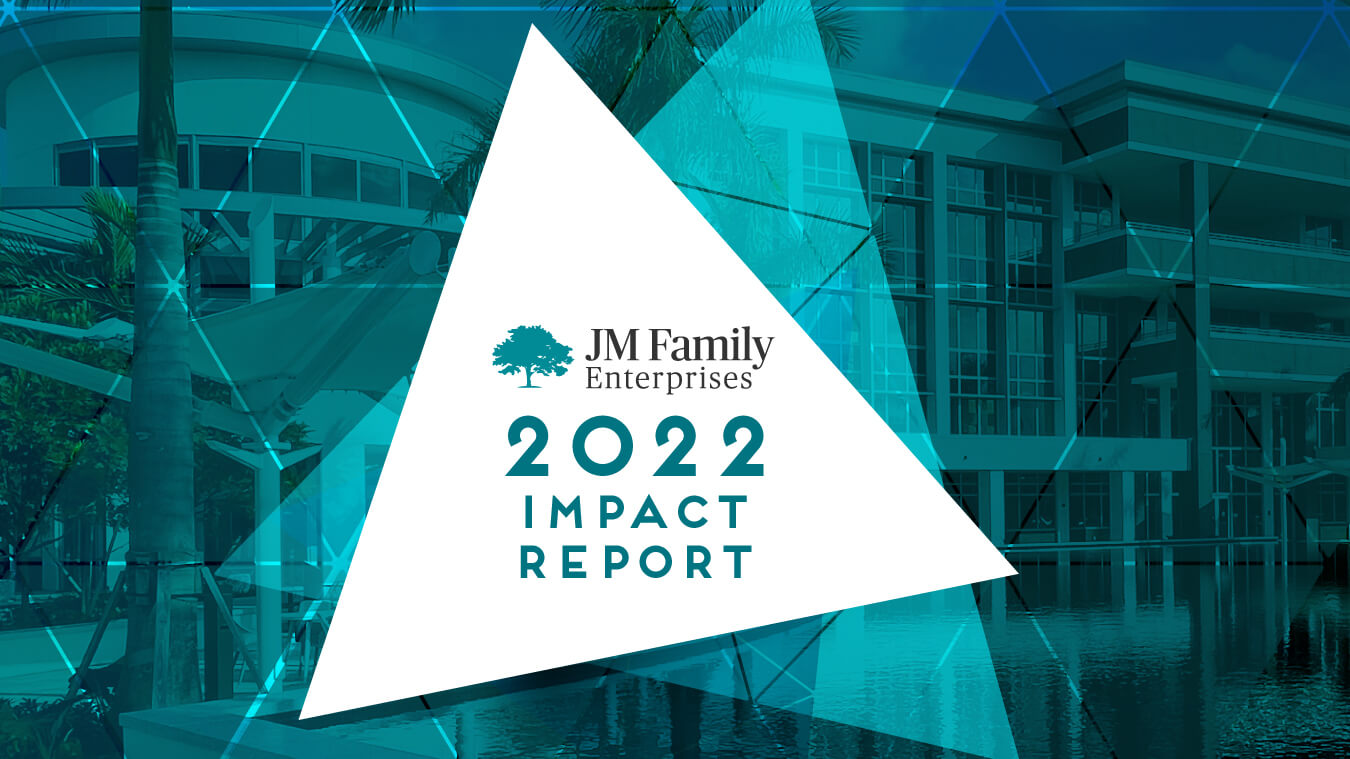 To our Associates, Business Partners and Friends,
When we entered 2022, we knew we would have to face strong economic headwinds. But we remained resilient, overcame challenges and elevated our business by supporting our customers, dealer partners and communities. Today, JM Family is proud to report $18 billion in revenue and the second-best operating performance in our company history!
JM Family is in the business of helping other businesses succeed. Our goal is to grow our company through strategically leveraging our strong culture and core competencies that our founder, Jim Moran, instilled in our company more than 50 years ago. Building on this growth strategy, we are excited about our most recent acquisitions of Futura Title & Escrow and Rollease Acmeda, both positioned within our JM Family Holdings division, and National Truck Protection, a division of JM&A Group.
In this Impact Report, you can learn about the collective efforts we accomplished in 2022. These include our sales numbers, environmental sustainability efforts, the impact we made within our communities — including more than $69.5 million donated to our nonprofit partners, and our commitment to build a more inclusive workplace, and sustain and improve diversity within JM Family.
Among the complexities of the last year, we achieved impressive growth and success across our company. We are more than 5,000 associates strong, well-prepared for the future, and ready to elevate and evolve together to tackle the challenges and opportunities ahead of us.
At JM Family, together, we do it better.
Brent Burns
President & CEO
About JM Family Enterprises
JM Family Enterprises, Inc. was founded by automotive legend, Jim Moran in 1968. It is a privately held company with $18 billion in revenue and more than 5,000 associates. Rooted in automotive and united in its strong culture and core values, JM Family is in the business of helping other businesses succeed. As a long-term partner, it is invested in its companies, associates and its communities. Driven by exceptional performance, current subsidiaries are in the automotive, financial services, franchising and specialty distribution industries. Its family of companies includes: Southeast Toyota Distributors, JM&A Group, World Omni Financial Corp. (dba Southeast Toyota Finance), JM Lexus, Home Franchise Concepts®, Futura Title & Escrow and Rollease Acmeda. Interact with JM Family on Facebook, Instagram and LinkedIn.
Media Contacts
Christie Caliendo
Director, Public Relations & Integrated Marketing