Gateway to the Midwest – St. Louis Office Celebrates 25 Years
February 27, 2023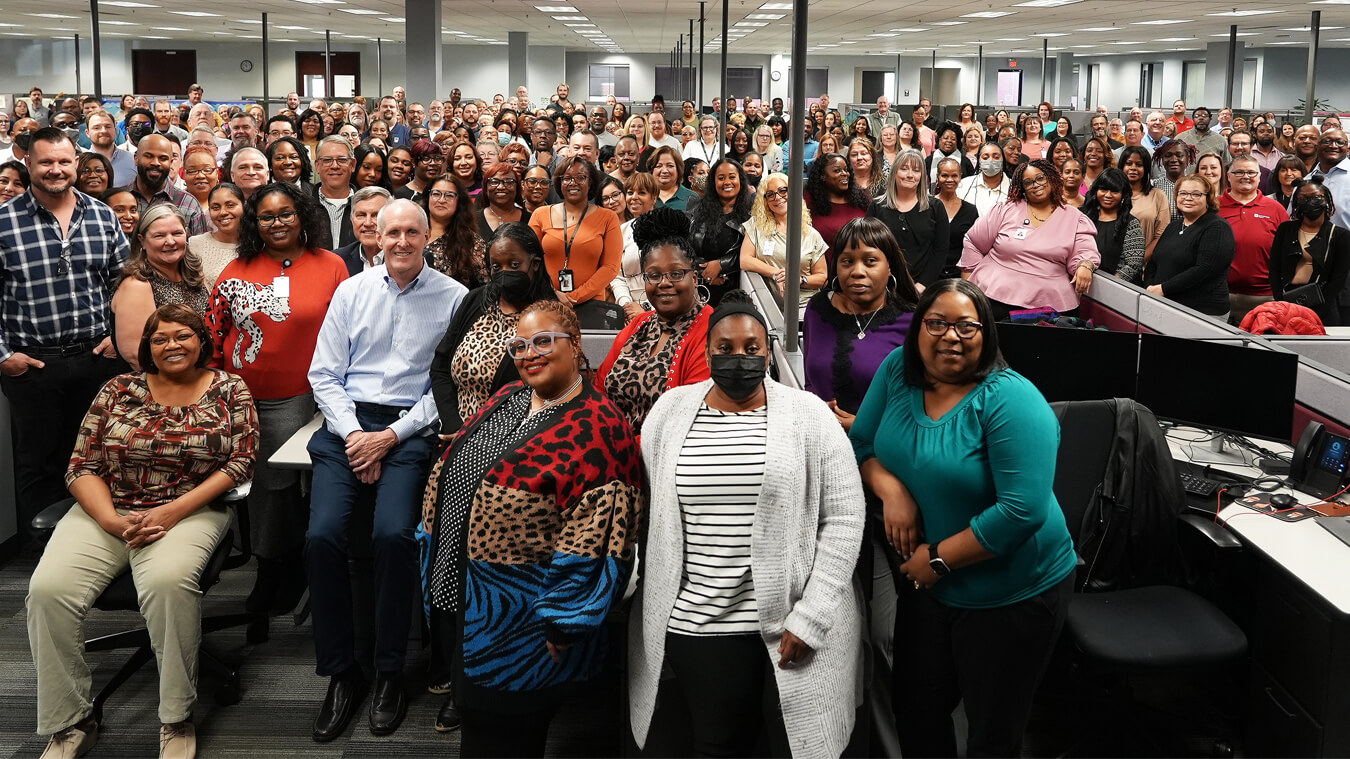 It was the winter of 1998, when 106 associates from World Omni Financial Corp, now doing business as Southeast Toyota Finance (SET Finance), and JM&A Group first entered the National Service Center in Missouri. Originally, the facility was created to help service loans and leases for World Omni's third-party accounts and provide housing for JM&A Group's Midwest claims as part of Fidelity Warranty Services. At the time, World Omni represented approximately a quarter of a million vehicles on the road that were financed or processed.
"We have come a long way since becoming the first captive auto finance company established in the United States for an import car manufacturer," said Dan Chait, president of SET Finance and JM&A Group. "I want to personally congratulate our associates in St. Louis on their exciting anniversary. Our successes are a direct result of their dedication and hard work, and with their help, we have achieved some truly remarkable milestones."
Now 25 years later, the office continues to expand JM Family's greater national presence, functioning as the customer experience centers for SET Finance and JM&A Group. In St. Louis, SET Finance supports retail loans and leases originated by dealer partners throughout the Southeast by providing account servicing while JM&A Group's customer experience center team provides daily support to dealers, lenders, field associates and consumers, helping to grow the company's national footprint while managing more than 14.5 million active contracts. The branch is made up of over 300 associates—13 of whom have operated in the location since its very first day.
About Southeast Toyota Finance
Southeast Toyota Finance (part of World Omni Financial Corp.) is a captive financial services company driven to delivering an exceptional dealership and customer experience for Toyota customers in the Southeast. The company offers a broad range of products and services to the 177 Toyota dealers in Alabama, Florida, Georgia, North Carolina, and South Carolina. Southeast Toyota Finance is the leading provider of finance and lease options for new Toyota vehicles within its footprint, consistently ranking at the top in market share and dealer satisfaction. The company is committed to strong dealer relationships and customer service, providing finance, retail and lease programs, college graduate and military rebate programs that drive customer and dealer loyalty. The company's portfolio of dealer loans includes inventory financing, real estate, and construction loans.
Southeast Toyota Finance is a subsidiary of JM Family Enterprises, Inc., a privately held company with $18 billion in revenue and more than 5,000 associates, which is headquartered in Deerfield Beach, Florida.
About JM&A Group
JM&A Group, a leader in the F&I industry for more than 40 years, serves more than 3,800 automotive dealerships nationwide. Comprised of Jim Moran & Associates, Inc. (JM&A), Fidelity Warranty Services, Inc. (FWS), Fidelity Insurance Agency, and Courtesy Insurance Company, it provides a variety of products and services such as F&I training and consulting, vehicle protection plans, used vehicle certification programs, pre-paid maintenance plans and GAP programs. Additionally, the company has more than 800 associates, including a dedicated sales force of 300+ associates who support process implementation for dealer operations and digital sales strategies. National Truck Protection Co. Inc., a division of JM&A Group, is the leading vehicle service contract provider in the commercial truck industry and serves customers across a variety of channels throughout the U.S. and Canada including OEM, independent dealer groups, aftermarket truck resellers, agencies and direct-to-consumer. For more information about JM&A Group's products and services, call 1-800-553-7146 or visit www.jmagroup.com.
JM&A Group is a division of JM Family Enterprises, Inc., a privately held company with $18 billion in revenue and more than 5,000 associates, which is headquartered in Deerfield Beach, Florida. Interact with JM Family on Facebook, Twitter, Instagram and LinkedIn.
Media Contacts
Christie Caliendo
Director, Public Relations & Integrated Marketing