The Predictive Index Secures $30 Million Investment from

JM Family Enterprises
September 13, 2022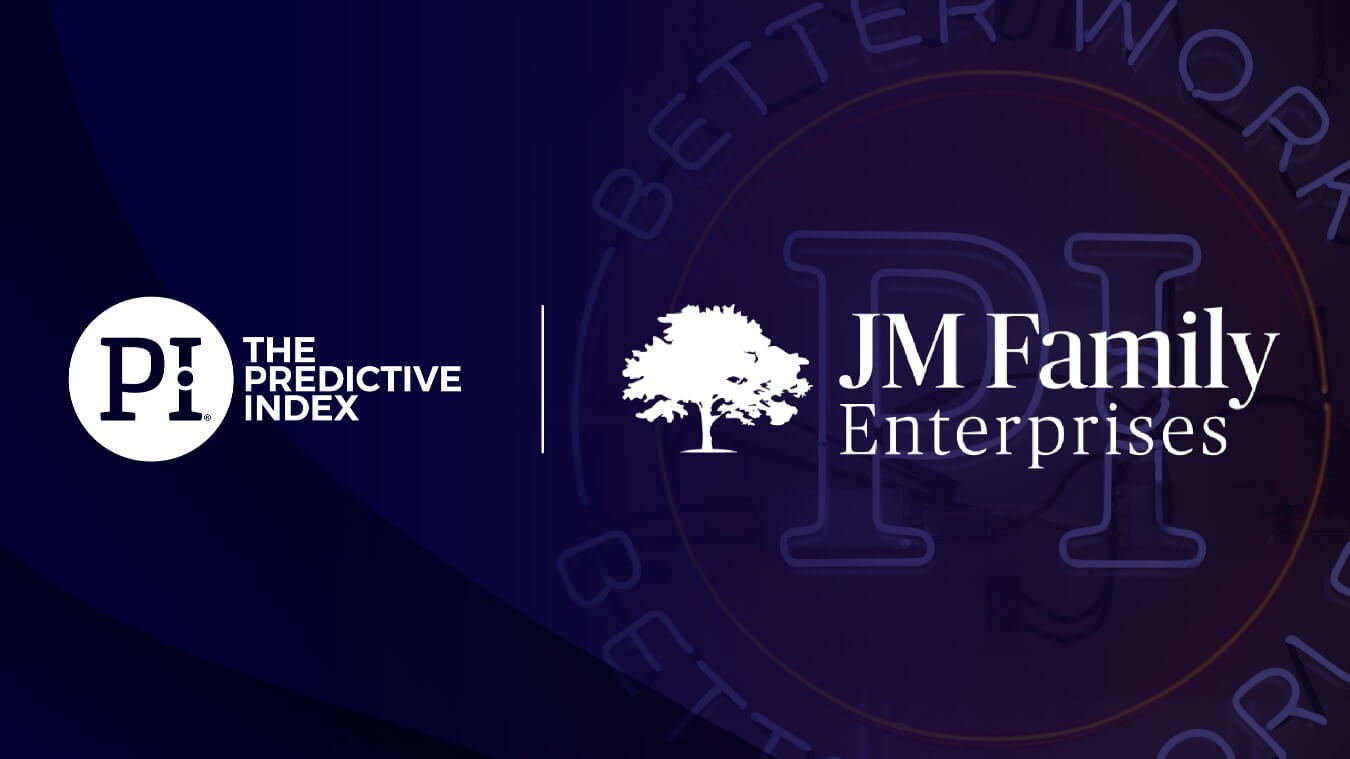 JM Family Enterprises Joins The Predictive Index Board of Directors; Investment Funds To Support Product Performance and Network Effectiveness
The Predictive Index (PI) announced today a $30 million minority investment from JM Family Enterprises, Inc. (JMFE) to accelerate its mission of Better work, better world through product enhancements to the world's only global talent optimization platform.
The additional funding will allow The Predictive Index to accelerate product performance with a deep focus on creating lasting value for customers and supporting network effectiveness, propelling companies to hire better, design winning teams, inspire leaders at every level, and engage their people throughout the employee lifecycle.
"JM Family Enterprises takes a long-term view in building lasting companies, and we find their approach unique in the growth equity marketplace," said PI CEO Mike Zani. "They bring a deep knowledge of the franchisee/franchisor business model, similar to our value-added certified partner network. This investment enables us to focus on driving increased value for our partner network and customers by expanding product capabilities and delivering on truly engaging software experiences."
In the last 12 months, The Predictive Index has surpassed 10,000 customers and 480 partners across 90+ countries. PI has been named a leader in Best Pre-Employment Testing Software for three years straight by G2, the world's leading tech marketplace.
"Through both our operating and investing activities, we've seen firsthand the value that The Predictive Index brings to customers and partners," said Pearl Percy, Chief Corporate Development Officer at JMFE. "There is clear alignment between JM Family's belief that people are at the center of our success and The Predictive Index's industry-leading talent optimization products and services. In addition, PI's unique combination of time-tested science and a modern technology platform aligns with our investment priorities."
About The Predictive Index
The Predictive Index (PI) is an award-winning talent optimization platform that aligns business strategy with people strategy for optimal business results. More than 60 years of proven science, software, and a curriculum of insightful management workshops make PI the solution for any company looking to design great teams and culture, make objective hiring decisions, foster engagement, and inspire greatness in their people anywhere in the world. More than 10,000 clients and 480+ partners use PI—including Nissan, Citizens Bank, Subway, Blue Cross Blue Shield, and Omni Hotels—across 90+ countries. Learn more at https://www.predictiveindex.com/.
About JM Family Enterprises, Inc.
JM Family Enterprises, Inc. was founded by automotive legend, Jim Moran in 1968. It is a privately held company with $18 billion in revenue and more than 5,000 associates. Rooted in automotive and united in its strong culture and core values, JM Family is in the business of helping other businesses succeed. As a long-term partner, it is invested in its companies, associates and its communities. Driven by exceptional performance, current subsidiaries are in the automotive, financial services, franchising and specialty distribution industries. Its family of companies includes: Southeast Toyota Distributors, the world's largest independent distributor of Toyota vehicles; JM&A Group, a company committed to improving automotive dealers' performance by offering Finance & Insurance products and services, dealership training and consulting; World Omni Financial Corp. (dba Southeast Toyota Finance), a captive financial services company driven to delivering an exceptional dealership and customer experience for Toyota customers in the Southeast; JM Lexus, one of South Florida's leading Lexus dealers; Home Franchise Concepts®, a multi-brand franchise network consisting of Budget Blinds®, The Tailored Closet™, PremierGarage®, Concrete Craft®, AdvantaClean®, Lightspeed Restoration™, Kitchen Tune-Up®, Bath Tune-Up®, Two Maids® and Aussie Pet Mobile®; and Futura Title & Escrow, a family of leading independent title and escrow companies which includes Alliance Title & Escrow, AmeriTitle, Pacific Alliance Title, and Kittitas Title and Escrow, and Rollease Acmeda, a leading specialty distributor of window covering systems.
Interact with JM Family on Facebook, Twitter, Instagram and LinkedIn.
Media Contacts
Christie Caliendo
Director, Public Relations & Integrated Marketing