Tailored Living featuring PremierGarage Opens First Retail Space to Showcase Stylish Home Storage and Organizational Solutions
September 20, 2021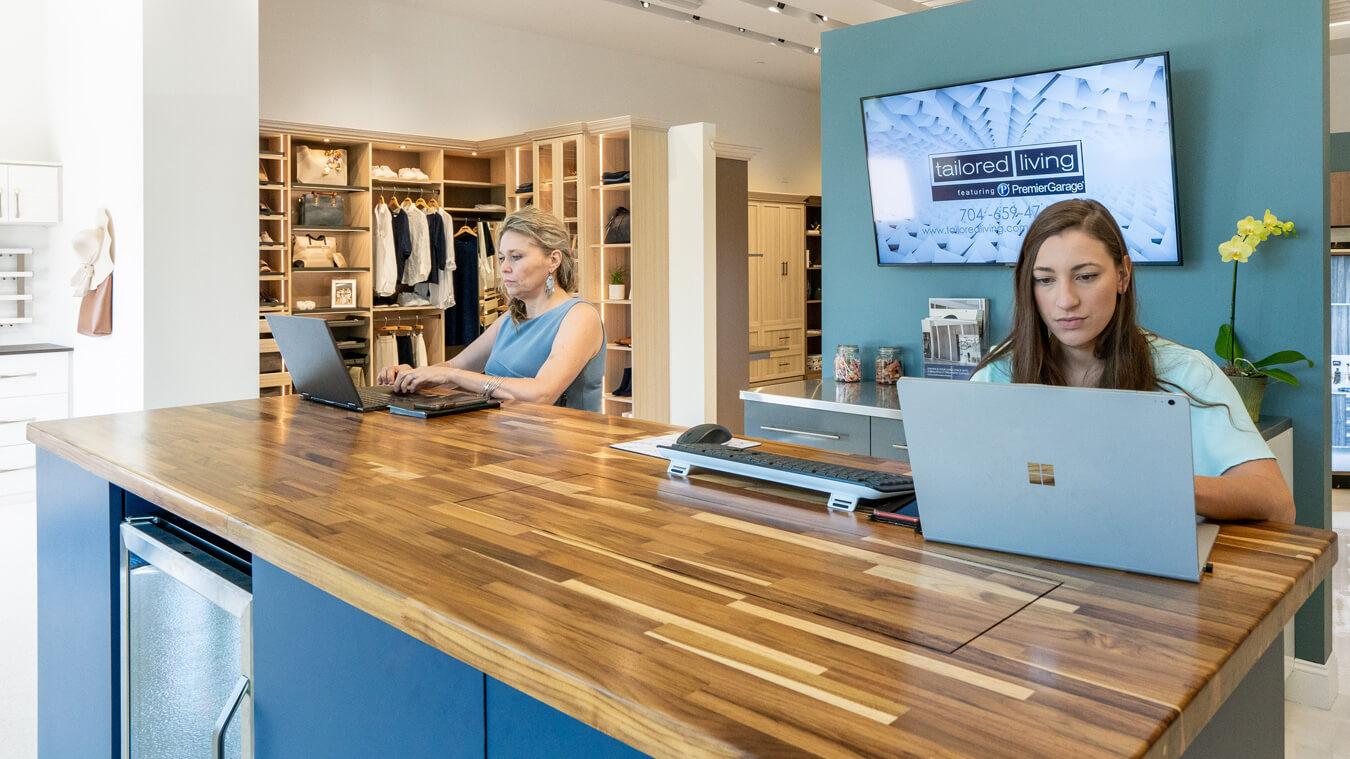 From designer walk-in closets to magazine-worthy garages and beyond, customers looking to stylishly transform and organize their homes now have a showroom in south Charlotte to visit with experts on hand to share the latest design solutions. Tailored Living® featuring PremierGarage®, the largest whole home storage and organization franchise in North America, has officially debuted its prototype brick-and-mortar retail space at Waverly – 7415 Waverly Walk Avenue.
With nearly 200 locations across North America, Tailored Living has successfully grown its reach in the 15 years since it was founded, operating as a personalized consultant-based business model. Now, led by local Tailored Living of Greater Charlotte owners and entrepreneurs Johan and Ellie Fogelberg, the company has a 2,150-square-foot physical retail space where customers can experience a variety of offerings in one place. Another showroom is slated to open in Atlanta later this year.
"Now more than ever, our homes are some of the most important spaces for ourselves and our families," said Heather Nykolaychuk, president, Tailored Living. "Our showroom offers guests an opportunity to see all of the possibilities that exist to improve their homes and experience the Tailored Living difference. At Tailored Living our philosophy is simple: we believe in delivering a consistent and highly-personalized experience designed for the way you live."
With solutions for everything from closets, pantries, storage spaces, home offices and garages, Tailored Living's products, including cabinetry, shelving, bins and flooring systems, are designed to inspire home and business enhancements that make life more organized, more beautiful and less stressful. The company's local design experts take the time to understand the needs and style preferences of their customers to create an organizational solution that is completely customized.
As loyal Tailored Living customers have learned, there's just no comparison between do-it-yourself and a professionally designed and installed closet or garage. Some DIY projects can be great fun — but when it comes to precise measuring, professional 3D design software capabilities, outstanding product choices, and expert installation, it just makes sense to work with the pros to get the job done.
At Tailored Living, the consultative process is designed around caring for the customers and their needs. Consultants spend the time to understand the way people live and discover what's important to them and their families. With the help of proprietary 3D design software, customers can see their spaces come to life before install begins. Throughout the entire process, these experts design with the customer to personalize each step and to ensure that the end solution matches everyone's unique style and budget.
"After six years in the Charlotte market, we are excited about expanding our local presence with the opening of this first-ever physical space," said the Fogelbergs. "We love the interaction with our clients and this showroom will introduce our brand and the Tailored Living home personalization to so many new customers. We look forward to welcoming them into our space where they can see and touch so many of our beautiful options in real-life settings and meet our design experts face to face."
About Tailored Living
Tailored Living® is the largest whole-home organization franchise in North America, providing garage flooring, garage cabinetry, custom closets, and other solutions to homeowners throughout the U.S. and Canada. Tailored Living is part of the Home Franchise Concepts (HFC) family of home improvement goods and services brands.
About Home Franchise Concepts®
Home Franchise Concepts (HFC) is one of the world's largest franchising systems in the home improvement goods and services space and among the world's largest franchise businesses. HFC's brands, Budget Blinds®, The Tailored Closet™, PremierGarage®, Concrete Craft®, AdvantaClean®, Lightspeed Restoration™, Kitchen Tune-Up®, Bath Tune-Up®, Two Maids® and Aussie Pet Mobile® are consistently rated at the top of their categories and supported by more than 2,200 franchise territories in the U.S., Canada and Mexico.
HFC is part of JM Family Holdings & Services, a subsidiary of JM Family Enterprises, Inc., a privately held company with $18 billion in revenue and more than 5,000 associates. Interact with JM Family on Facebook, Instagram and LinkedIn.
About JM Family Enterprises
JM Family Enterprises, Inc. was founded by automotive legend, Jim Moran in 1968. It is a privately held company with $18 billion in revenue and more than 5,000 associates. Rooted in automotive and united in its strong culture and core values, JM Family is in the business of helping other businesses succeed. As a long-term partner, it is invested in its companies, associates and its communities. Driven by exceptional performance, current subsidiaries are in the automotive, financial services, franchising and specialty distribution industries. Its family of companies includes: Southeast Toyota Distributors, JM&A Group, World Omni Financial Corp. (dba Southeast Toyota Finance), JM Lexus, Home Franchise Concepts®, Futura Title & Escrow and Rollease Acmeda. Interact with JM Family on Facebook, Instagram and LinkedIn.
Media Contacts
Christie Caliendo
Director, Public Relations & Integrated Marketing