Southeast Toyota Finance Ranked #1 in Dealer Satisfaction by J.D. Power
August 16, 2023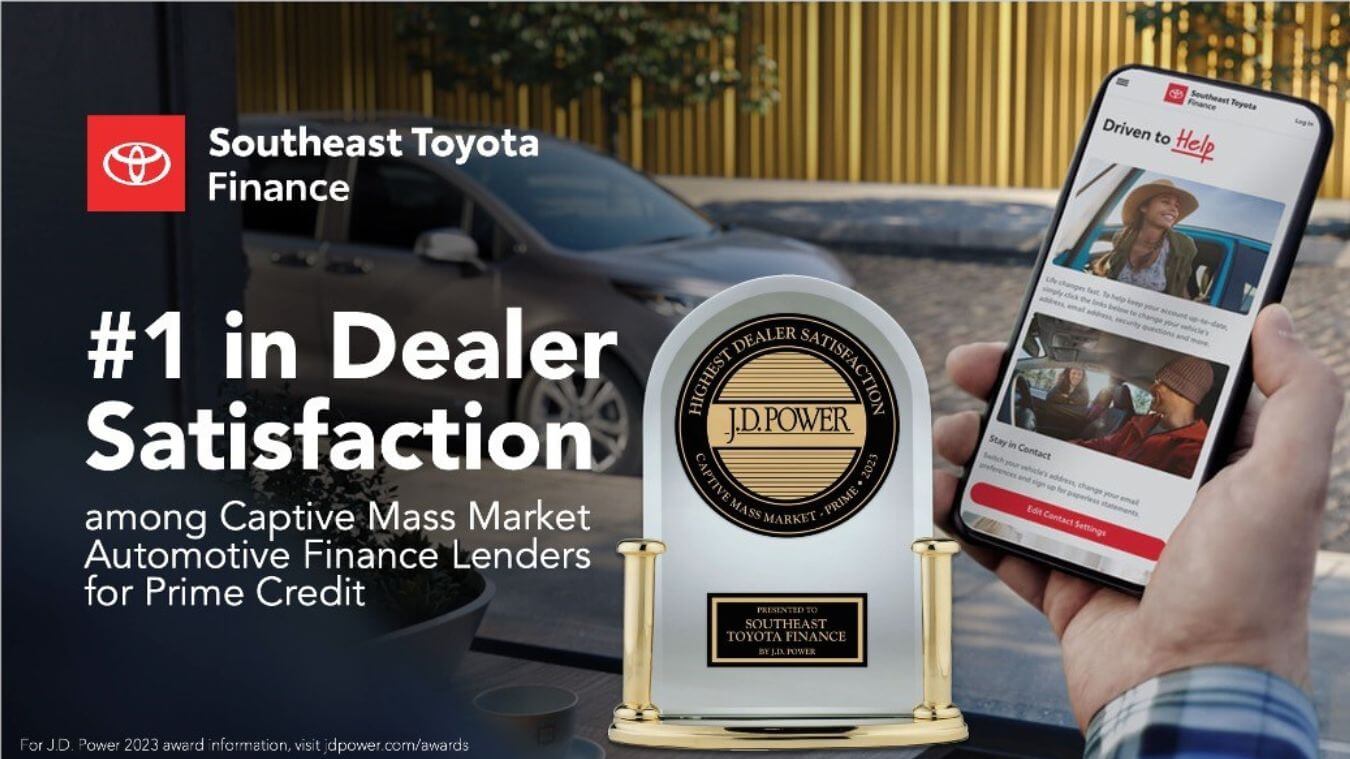 Finance Company Recognized for Dealer Satisfaction Among Captive Mass Market Automotive Finance Lenders for Prime Credit in the J.D. Power 2023 Dealer Financing Satisfaction StudySM
Southeast Toyota Finance (SET Finance), the captive finance company for 177 Toyota dealers throughout Alabama, Florida, Georgia, North Carolina and South Carolina, has been ranked as No. 1 in dealer satisfaction among Captive Mass Market Automotive Finance Lenders for Prime Credit in the J.D. Power 2023 Dealer Financing Satisfaction Study.
"We are honored to have been ranked as the number one automotive captive finance lender and owe this achievement to the strong relationships we have built with Southeast Toyota Distributors (SET) and our SET dealers." said Bill Shope, President of SET Finance. "Our highest priority is to provide industry leading service to our dealer partners as well as innovative, relationship-based programs focused on their success. We deliver this through the commitment of our dedicated associate team."
The 2023 U.S. Dealer Financing Satisfaction Study is based on responses from 3,552 auto dealer financing professionals. The report measures auto dealer satisfaction in five factors: finance provider offerings; funding process; credit staff relationship; sales representative relationship; and e-contracting. SET Finance ranked No. 1 across all factors in 2023, with Overall Dealer Satisfaction 83-points (on a 1,000 point scale) above the No. 2 ranked lender.
As the first auto finance company established in the United States for an import car manufacturer, SET Finance, part of World Omni Financial Corp, has offered direct financing exclusively to Toyota dealers and their consumers since its inception in 1981. Providing a wide range of financing and leasing options, the company's focus has always been twofold: to support its customers and get them behind the wheel of their dream vehicle while providing solutions for Toyota dealers in the region to better serve their customers. SET Finance consistently ranks at the top of its class in both dealer and customer satisfaction.
About J.D. Power
J.D. Power is a global leader in data and analytics, advisory services and consumer insights. A pioneer in the use of big data, artificial intelligence (AI) and algorithmic modeling capabilities to understand consumer behavior, J.D. Power has been delivering incisive industry intelligence on customer interactions with brands and products for more than 50 years. The world's leading businesses across major industries rely on J.D. Power to guide their customer-facing strategies.
J.D. Power has offices in North America, Europe and Asia Pacific. To learn more about the company's business offerings, visit JDPower.com/business.
About Southeast Toyota Finance
Southeast Toyota Finance (part of World Omni Financial Corp.) is a captive financial services company driven to delivering an exceptional dealership and customer experience for Toyota customers in the Southeast. The company offers a broad range of products and services to the 177 Toyota dealers in Alabama, Florida, Georgia, North Carolina, and South Carolina. Southeast Toyota Finance is the leading provider of finance and lease options for new Toyota vehicles within its footprint, consistently ranking at the top in market share and dealer satisfaction. The company is committed to strong dealer relationships and customer service, providing finance, retail and lease programs, college graduate and military rebate programs that drive customer and dealer loyalty. The company's portfolio of dealer loans includes inventory financing, real estate, and construction loans.
Southeast Toyota Finance is a subsidiary of JM Family Enterprises, Inc., a privately held company with $18 billion in revenue and more than 5,000 associates, which is headquartered in Deerfield Beach, Florida.
Media Contacts
Christie Caliendo
Director, Public Relations & Integrated Marketing