Local High School Students Learn About Careers in the Legal Profession Through Collaboration Between

JM Family Enterprises

and Street Law
June 15, 2022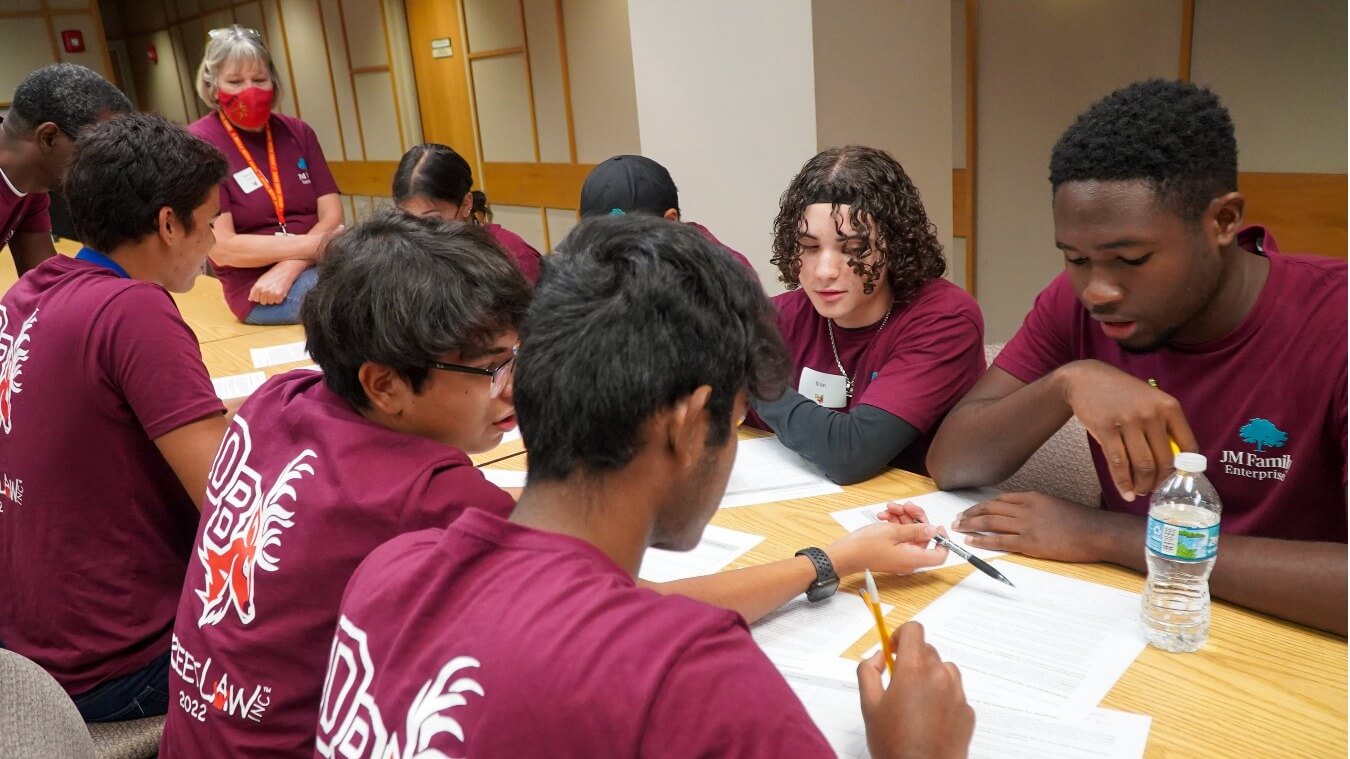 Recently, 28 Deerfield Beach High School juniors who were enrolled in International Baccalaureate (IB) participated in the Corporate Legal Diversity Pipeline Program, an educational law program which is part of a partnership between JM Family Enterprises, Street Law, Inc., and Deerfield Beach High School. This was JM Family's second year participating.
In 2021, JM Family became the first South Florida-based corporate legal department to sponsor a Corporate Legal Diversity Pipeline Program. As part of the sponsorship, 18 associates from throughout the company's Legal department volunteered their time to work with the students. This year's program focused on contracts – both negotiating the terms of a contract and the resolution of contract breaches and disputes – with students engaging in negotiation simulations.
"Creating real change takes years of dedication and commitment, so we are thrilled to participate in this ongoing program with Street Law and the students of Deerfield Beach High School," said Steve Artusi, group vice president and general counsel, JM Family. "It is an honor to be a part of something that touches on real world issues while also helping underrepresented communities envision a future with more parity and inclusion."
The month-long program consisted of live and virtual sessions and concluded with an in-person capstone event held at JM Family's Deerfield Beach headquarters. At the event, guest speakers representing different legal careers — including a Palm Beach County judge, a law firm partner, the chief operating officer of a sports and entertainment talent agency and JM Family's own executive vice president of HR and Legal, Carmen Johnson — spoke with the students and provided guidance on future legal professions.
The Corporate Legal Diversity Pipeline Programs are designed to encourage the pursuit of legal careers by young people from groups currently underrepresented in the profession. Through the program, law firms and corporate legal departments partner with nearby diverse, high school classes to engage the students, teach them about civil law and encourage them to consider those careers.
"It is because of the support of organizations like JM Family and their generous associates that Street Law is able to host powerful programs that educate and empower young people. We strive to help advance justice by equipping people with the legal and civic knowledge, skills, and confidence to bring about positive change for themselves and others," said Joy Dingle, senior director of Legal Diversity Initiatives at Street Law.
Deerfield Beach High School, located near JM Family's headquarters, is part of the Broward County Public School system and offers a variety of IB courses to develop students' breadth and depth of knowledge.
"We are thrilled to work with organizations that want to support our students and take learning outside of the classroom. In providing hands-on instruction of real-world scenarios, JM Family and Street Law are opening young adults up to a host of new possibilities for their futures," said William Collazo, IB Theory of Knowledge teacher, Deerfield Beach High School.
JM Family's involvement in the Street Law program is part of its continued support of nonprofit organizations in communities where its associates live and work. The company's Corporate Community Impact is focused on three areas of giving – empowering families, promoting education and embracing the environment.
About Street Law
Since 1972, Street Law, Inc. has been advancing justice by providing classroom and community education programs that empower people with the legal and civic knowledge, skills, and confidence to bring about positive change for themselves and others. Street Law programs are practical, relevant, and participatory—combining legal content with innovative teaching strategies that engage students in the learning process. Each year these programs reach hundreds of thousands of people across the United States and around the world.
Street Law's Legal Diversity Pipeline Program aims to address the dearth of diversity in the legal profession by pairing volunteer legal professionals with high school law classes to teach young people about law and pathways to careers in the legal sector. More than 75 companies and law firms across the country annually reach 3,500 diverse high school students with legal lessons, legal simulations, and career exploration activities.
About JM Family's Corporate Community Impact
When he founded JM Family Enterprises, Inc. in 1968, Jim Moran instilled in the company the spirit of giving back as an integral part of who we are. We inspire action and engage our associates to strengthen the communities in which we live and work. We pursue that goal through support and volunteerism. We contribute our time and talent to impact diverse causes driven by our culture, associates and the community. JM Family's Corporate Community Impact efforts are focused on three areas of giving – empowering families, promoting education and embracing the environment.
About JM Family Enterprises
JM Family Enterprises, Inc. was founded by automotive legend, Jim Moran in 1968. It is a privately held company with $18 billion in revenue and more than 5,000 associates. Rooted in automotive and united in its strong culture and core values, JM Family is in the business of helping other businesses succeed. As a long-term partner, it is invested in its companies, associates and its communities. Driven by exceptional performance, current subsidiaries are in the automotive, financial services, franchising and specialty distribution industries. Its family of companies includes: Southeast Toyota Distributors, JM&A Group, World Omni Financial Corp. (dba Southeast Toyota Finance), JM Lexus, Home Franchise Concepts®, Futura Title & Escrow and Rollease Acmeda. Interact with JM Family on Facebook, Twitter, Instagram and LinkedIn.
Media Contacts
Christie Caliendo
Director, Public Relations & Integrated Marketing