¡Vámonos! Museum of Discovery and Science's Newest Traveling Exhibit, Dora and Diego—Let's Explore! Presented by JM Lexus, Nicklaus Children's Hospital and Wells Fargo
September 17, 2021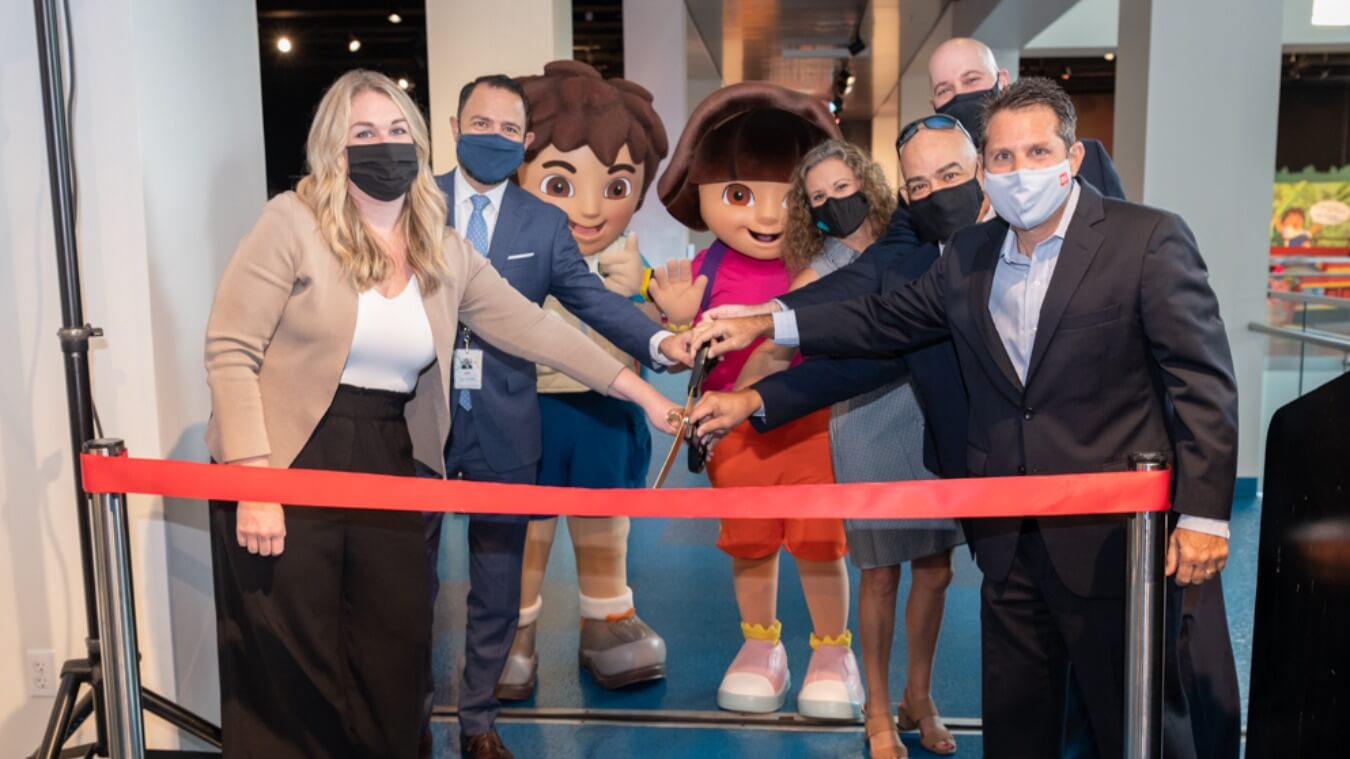 Dora and Diego—Let's Explore!, the newest traveling exhibit at the Museum of Discovery and Science (MODS), is now open through January 17, 2022.
The exhibit, presented by JM Lexus, Nicklaus Children's Hospital and Wells Fargo, gives guests the opportunity to go into the worlds of Dora (beloved 7-year-old Latina heroine from Nickelodeon's hit series Dora the Explorer) and Diego (Dora's 8-year-old cousin and bilingual animal rescuer from the network's Go, Diego, Go! show) to engage in problem-solving and active play. Dora and Diego – Let's Explore! features iconic characters Dora and Diego along with their friends Boots, Map, Backpack, Isa, Tico, and of course Swiper, now in their own exhibit for your child to explore as they learn and play along.
"Children can play along as they join an adventure and learn how to solve problems, be a good friend, and care for animals and the environment, which are all important for our explorers' development as curious learners," said Joseph P. Cox, president and CEO of MODS. "Our mission is to connect people to inspiring science, and in this case, exploring new worlds through immersive, innovative and experiential discovery."
The Dora & Diego experience at MODS is free with Museum admission. Favorite friends and places from episodes of Dora the Explorer and Go, Diego, Do! are incorporated in the exhibit including:
Space travel in the Rocket Ship – Dora's space creature friends need help to find their way back to the Purple Planet. Visitors will operate the rocket ship control panel to navigate through the Milky Way, look out the porthole to see planets fly by, connect stars to form a constellation and explore the Purple Planet in a space suit!
A visit to the Nutty Forest – Little explorers can help Tico gather nuts to fuel his car before Swiper swipes them. If Swiper is spotted, tell him, "Swiper, no swiping!"
A trip to Isa's Garden – Young botanists can help Isa care for her garden by planting and watering flowers and sorting flowers by their shapes. Make sure to stop and smell the posies!
Pirate Piggies' ship adventure- Explorers will climb aboard the pirate ship in search of treasure. Help Dora and Boots get the crew ready to sail the seas by following the Pirate Piggy Rules: dress like a pirate, sing a pirate song, always be polite, and share.
Caring for baby animals in the Animal Rescue Center – Veterinarians in training will learn how to care for red-eyed tree frogs, spider monkeys, jaguars and crocodiles by placing them in Scan the Scanner and then help Diego and Alicia examine, bandage, bathe and feed the baby animals.
Exploring the Rainforest Maze – Visitors will run, jump, crawl and swing through the Rainforest Maze in search of baby animals hidden inside.
"At Nicklaus Children's, we are committed to healing and inspiring children," said Matthew A. Love, president and CEO of Nicklaus Children's Health System. "Through our sponsorship of Dora and Diego: Let's Explore! at the Museum of Science and Discovery, we seek to support enriching and captivating experiences for the region's children."
Other exciting events include:
Member Morning – MODS members enjoy exclusive MEMBERS ONLY exhibit time before the Museum opens to the public! Members always receive free admission. Learn more about MODS membership at https://mods.org/membership.
Let's eat breakfast! iVámonos a desayunar! Families can enjoy a special character breakfast on Saturday, September 18 at 9 a.m. Seating is limited and advanced registration is required. The cost is $17.50 per person (child or adult) for Museum members and $37.50 per person (child or adult) for non-members. The event includes a breakfast buffet, meet & greet with Dora and Diego, special hands-on activities for all ages, music and singalongs, Museum exploration and an IMAX documentary.
A Dora and Diego Character Meet & Greet will take place on Saturday, September 18 and Sunday, September 19. The 30-minute sessions are limited and advanced registration is required. The Meet & Greet are free with Museum admission.
"Wells Fargo is incredibly proud that our lasting partnership with MODS gave us the opportunity to support the Dora and Diego – Let's Explore! exhibit. There are many reasons we partner with MODS, with one of the most important being our shared commitment to access and opportunity. Dora and Diego bring a sense of fun while learning to children and their families," said Erick Strati, senior vice president South Florida market executive with Wells Fargo.
Be sure to bring your little explorer to play along with Dora, Diego and their friends so they too can say "We did it!" Spanish vocabulary is incorporated throughout the exhibit to introduce Spanish-speaking skills to young learners.
"JM Lexus is proud to support the Museum of Discovery & Science's new Dora & Diego – Let's Explore! This exhibit will provide children an opportunity to explore tropical environments alongside beloved bilingual characters, all while using critical problem-solving ability and active play. JM Lexus is committed to helping our community partners, such as MODS, offer quality educational programs to engage young children in creative learning techniques," said Mark Hoppe, vice president and general manager, JM Lexus.
Admission to the exhibit is included with purchase of a ticket to MODS. For more information, please visit mods.org.
©2021 Viacom International Inc. All rights reserved. Nickelodeon, Dora the Explorer, Go, Diego, Go! and all related titles, logos and characters are trademarks of Viacom International Inc.
About Museum of Discovery and Science
Founded in 1976 as the Discovery Center, today the Museum of Discovery and Science (MODS) is at the forefront of science education, innovation and exploration. In addition to daily hours, MODS is currently offering virtual and offsite programming, which allows us to continue connecting people around the globe to inspiring science – whether at home or in virtual classrooms. The Museum showcases more than 300 interactive exhibits, immersive films, experiential programs and an aviation-themed Makerspace. Families can enjoy super science shows and demonstrations, wild Creature Feature animal encounters, awesome avatar tours and private experiences, mind-blowing Makerspace labs, cool camps, unforgettable birthday parties, engaging field trips and STEM curricula, professional development workshops for educators, distinguished speakers, and more.
The Museum celebrates diversity and welcomes visitors from all walks of life. The Museum hours are Monday through Saturday 10 a.m. to 5 p.m. and Sunday 12 p.m. to 5 p.m. MODS is located downtown at 401 SW Second Street, Fort Lauderdale, Florida 33312. For more information about the Museum, please visit mods.org or call 954.467.MODS (6637).
About JM Lexus
JM Lexus, located in Margate, Florida, maintains state-of-the-art Service and Parts departments, as well as one of only a few Lexus Certified Collision Centers in the country. It is also a leader in environmental sustainability, employing a number of eco-friendly business practices such as solar power, efficient lighting and modern paint technologies to offset its carbon footprint. The JM Lexus Certified Pre-Owned Department offers a wide range of makes and models with the dealership's standards of excellence. JM Lexus's unique model offers guests a dedicated consultant, up-front transparent pricing and no dealer fee. Learn more and interact with JM Lexus on Facebook, Instagram and Twitter.
JM Lexus is a subsidiary of JM Family Enterprises, Inc., a privately held company with $18 billion in revenue and more than 5,000 associates, which is headquartered in Deerfield Beach, Florida. Interact with JM Family on Facebook, Twitter, Instagram and LinkedIn.
Media Contacts
Christie Caliendo
Director, Public Relations & Integrated Marketing