Golf FORE Good:
JM Family Enterprises Hosts Tee-Rific Fundraiser in Support of Local Food Banks
June 9, 2022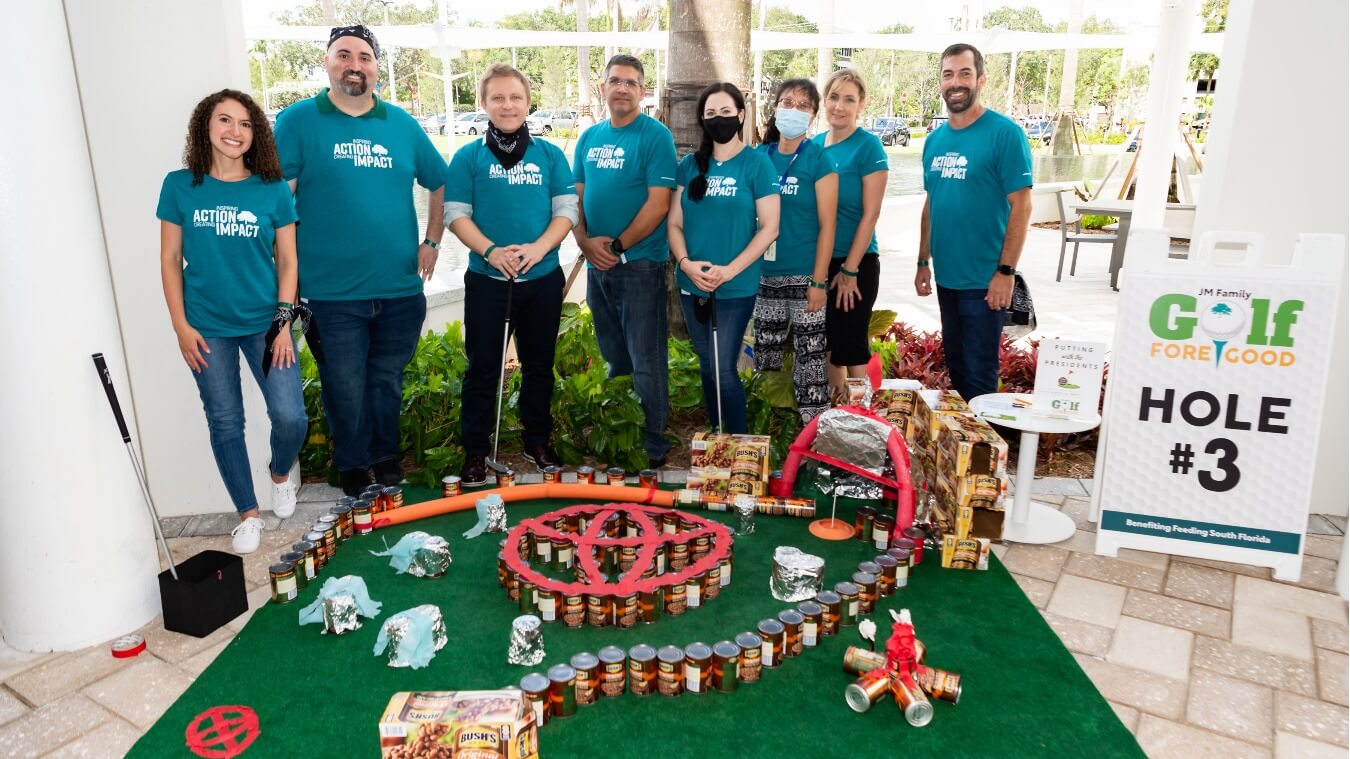 JM Family Enterprises got into the swing of giving, hosting its annual food drive campaign: a miniature golf-themed challenge aptly dubbed Golf FORE Good. Through the power of teamwork and the spirit of giving, the company collectively raised nearly $50,000 to help food bank partners across its footprint to stock their shelves and drive out hunger. This total will account for nearly 500,000 meals.
"With the rising cost of food, more and more families are relying on food banks to find their next meal," said Lisa Davis, manager of Corporate Community Impact, JM Family. "The dollars generously donated by our associates as part of the Golf FORE Good campaign allow these organizations to continue providing those facing hunger and food insecurity with nutritious meals."
During the Golf FORE Good campaign, volunteers built putting greens made from canned and boxed goods at eight of JM Family's business locations. Associates were then encouraged to "chip in" and donate $25 to their local food bank for the chance to play a round. Prizes were awarded for creative putting green designs, and for sinking a hole-in-one.
"Associates really put their creativity, and golf skills, to the test building very impressive mini golf putting greens. Who knew you could make a Toyota Tundra out of canned beans and a bridge out of cereal boxes!," said Davis.
Golf FORE Good beneficiaries include Feeding South Florida, Banks-Jackson County Food Bank, Feeding the Gulf Coast and St. Louis Area Foodbank, Central Alabama Food Bank, Second Harvest Food Bank of Orange County, North Texas Food Bank and Salvation Army of Aberdeen (SD).
About JM Family's Corporate Community Impact
When he founded JM Family Enterprises, Inc. in 1968, Jim Moran instilled in the company the spirit of giving back as an integral part of who we are. We inspire action and engage our associates to strengthen the communities in which we live and work. We pursue that goal through support and volunteerism. We contribute our time and talent to impact diverse causes driven by our culture, associates and the community. JM Family's Corporate Community Impact efforts are focused on three areas of giving – empowering families, promoting education and embracing the environment.
About JM Family Enterprises
JM Family Enterprises, Inc. was founded by automotive legend, Jim Moran in 1968. It is a privately held company with $18 billion in revenue and more than 5,000 associates. Rooted in automotive and united in its strong culture and core values, JM Family is in the business of helping other businesses succeed. As a long-term partner, it is invested in its companies, associates and its communities. Driven by exceptional performance, current subsidiaries are in the automotive, financial services, franchising and specialty distribution industries. Its family of companies includes: Southeast Toyota Distributors, JM&A Group, World Omni Financial Corp. (dba Southeast Toyota Finance), JM Lexus, Home Franchise Concepts®, Futura Title & Escrow and Rollease Acmeda. Interact with JM Family on Facebook, Twitter, Instagram and LinkedIn.
Media Contacts
Christie Caliendo
Director, Public Relations & Integrated Marketing