JM Family Enterprises Named One of the 2020 Best Workplaces for Parents by Great Place to Work®
December 2, 2020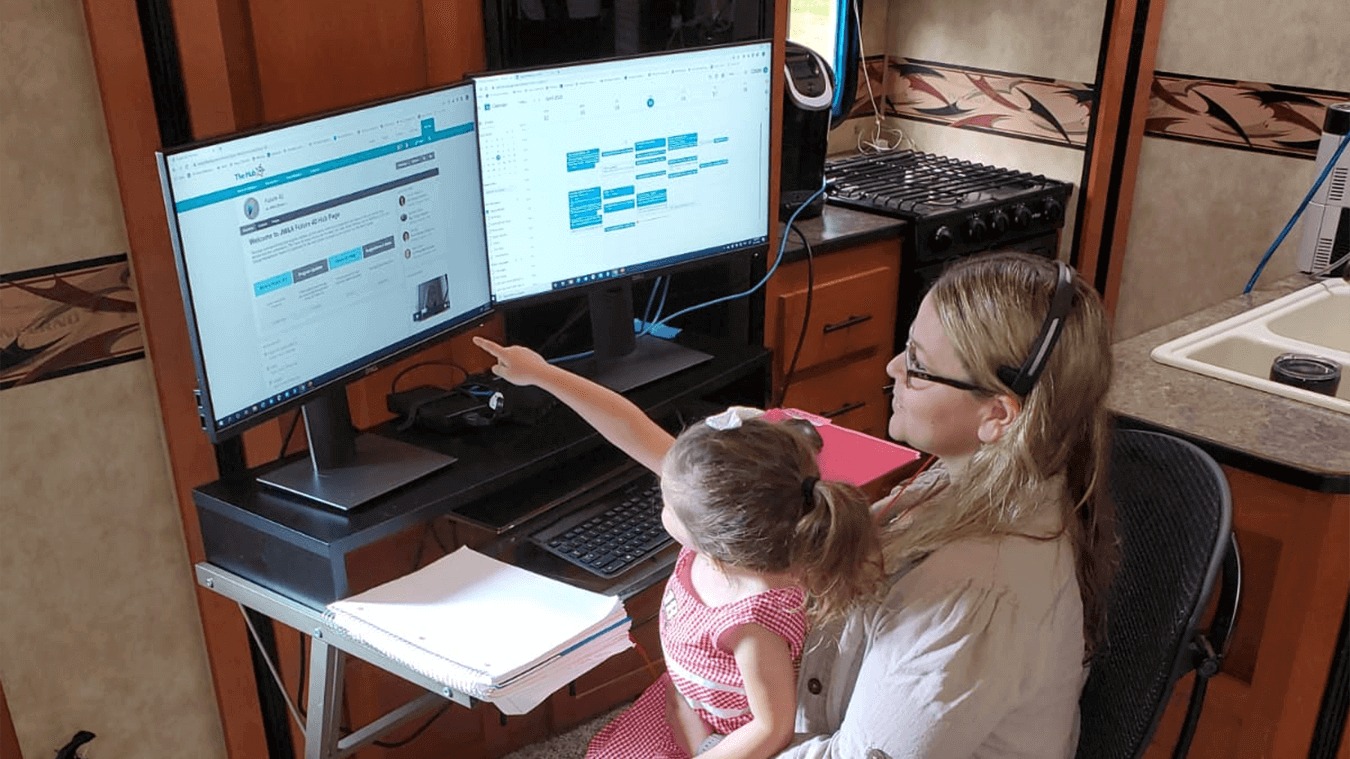 Great Place to Work® has named JM Family Enterprises, Inc. as No. 48 on the 2020 Best Workplaces for Parents list for having created consistently positive experiences for working parents.
This award is particularly significant in light of the extremely difficult and novel challenges facing parents this year. To support parents during these unprecedented times, JM Family has introduced policies and programs which put an emphasis on new working environments and the importance of work/life balance.
The recently formed affinity group Parents Connect was organized by JM Family's Associate Experience team for associates from throughout the organization. Virtual meet-up opportunities are hosted regularly, allowing working parents to connect to have open dialogue, lend an ear to those struggling and spark ideas for maintaining a healthy balance when managing work, kids and school.
"We knew our associates with children at home were experiencing unique stresses during the pandemic, so we created a virtual network for them to share stress-management resources, information about back-to-school and virtual learning opportunities, and most of all, to lend an ear to a fellow associate during these tough times," said Nick Bosse, director, Associate Experience. "Their feedback was that it was a relief to know they weren't alone, and some of them created smaller groups to support their individual experiences."
In addition, the pandemic also re-energized an initiative to implement formalized flexible work arrangements across the company. Understanding no two associates or work environments are the same, Human Resources hosted multiple focus groups, researched best practices and worked with business unit leadership to create a dynamic and inclusive framework. One of the many near-term benefits is offering parents schedule options that allow them to meet their work commitments while also supporting learning at home.
Other ongoing initiatives specifically geared toward associates with families include:
– A robust parental leave policy for new and adoptive parents, which includes 12 weeks fully paid leave for primary caregivers and four weeks fully paid leave for non-primary caregivers.
– The JM Family Center in Deerfield Beach, which is a 15,000-square-foot onsite childcare facility managed by Bright Horizons and accredited by the National Association for the Education of Young Children. In response to the pandemic, the center closed its doors mid-March and reopened in June with new protocol to keep the children and their families safe.
– Nine onsite Health and Wellness Centers at JM Family's various business locations are staffed by teams of physicians, nurses and physical therapists to keep associates and their dependents feeling their best.
Great Place to Work determined the Best Workplaces for ParentsTM by gathering and analyzing confidential employee experience feedback representing 4.8 million U.S. employees across more than 20 industries – the largest annual study of working parents to date.
Employees reported their workplace experience using the industry-leading Trust Index© survey. The survey is proven to quantify over 75 metrics of company culture, including levels of trust, pride, management effectiveness, innovation, diversity and equity. All Trust Index© survey results were representative of their entire workforce and accurate to a 95% confidence level with a 5% margin of error or better.
Great Place to Work then selected the Best Workplaces for Parents from this dataset using their For AllTM Methodology. 85% of the evaluation was based on parents' scores of trust and fairness. The remaining 15% was based on how parenting status influenced other aspects of employees' work experience as well as their experience of the company's leadership effectiveness, meaningful values, and innovation.
Great Place to Work's analysis also focused on how parents' workplace experiences compare to those of their non-parent colleagues and determining whether their job level, race/ethnicity or any other personal characteristic changed the level of support they received as a working parent. Finally, they reviewed each company's parental leave, adoption, flexible schedule, childcare and dependent health care benefits.
Full details of the study and findings can be found in the report authored by Great Place to Work in Partnership with Maven Clinic.
"Best workplaces like JM Family have built dynamic, flexible, and transparent workplaces built on trust," said Michael C. Bush, CEO of Great Place to Work. "This gives companies on this list a powerful opportunity not just to do well for their people, but also to do well for their businesses."
The Best Workplaces for Parents is one of a series of rankings by Great Place to Work and FORTUNE. In the past year, JM Family also was listed among the Best Workplaces for Women [No. 56], Best Workplaces in Manufacturing & Production [No. 2] and Best Workplaces for Millennials [No. 49]. Plus, JM Family is ranked No. 26 by FORTUNE® as one of the 100 Best Companies to Work For®, its 22nd consecutive year on the prestigious list.
About the Best Workplaces for ParentsTM
Great Place to Work based its ranking on a data-driven methodology applied to confidential Trust Index™ survey responses representing over 4.8 million employees working at Great Place to Work-CertifiedTM organizations. To learn more about Great Place to Work Certification and recognition on Best Workplaces lists published with Fortune, visit greatplacetowork.com.
About Great Place to Work®
Great Place to Work® is the global authority on workplace culture. Since 1992, they have surveyed more than 100 million employees around the world and used those deep insights to define what makes a great workplace: trust. Great Place to Work helps organizations quantify their culture and produce better business results by creating a high-trust work experience for all employees. Emprising®, their culture management platform, empowers leaders with the surveys, real-time reporting, and insights they need to make data-driven people decisions. Their unparalleled benchmark data is used to recognize Great Place to Work-Certified™ companies and the Best Workplaces™ in the US and more than 60 countries, including the 100 Best Companies to Work For® and World's Best WorkplacesTM list published annually in Fortune. Everything they do is driven by the mission to build a better world by helping every organization become a great place to work For All™.
To learn more, visit greatplacetowork.com, listen to the podcast Better by Great Place to Work, and read "A Great Place to Work for All." Join the community on LinkedIn, Twitter, and Instagram.
About JM Family Enterprises, Inc.
JM Family Enterprises, Inc. was founded by automotive legend, Jim Moran in 1968. It is a privately held company with $18 billion in revenue and more than 5,000 associates. Rooted in automotive and united in its strong culture and core values, JM Family is in the business of helping other businesses succeed. As a long-term partner, it is invested in its companies, associates and its communities. Driven by exceptional performance, current subsidiaries are in the automotive, financial services, franchising and specialty distribution industries. Its family of companies includes: Southeast Toyota Distributors, the world's largest independent distributor of Toyota vehicles; JM&A Group, a company committed to improving automotive dealers' performance by offering Finance & Insurance products and services, dealership training and consulting; World Omni Financial Corp. (dba Southeast Toyota Finance), a captive financial services company driven to delivering an exceptional dealership and customer experience for Toyota customers in the Southeast; JM Lexus, one of South Florida's leading Lexus dealers; Home Franchise Concepts®, a multi-brand franchise network consisting of Budget Blinds®, The Tailored Closet™, PremierGarage®, Concrete Craft®, AdvantaClean®, Kitchen Tune-Up®, Bath Tune-Up®, Two Maids® and Aussie Pet Mobile®; and Futura Title & Escrow, a family of leading independent title and escrow companies which includes Alliance Title & Escrow, AmeriTitle, Pacific Alliance Title, and Kittitas Title and Escrow, and Rollease Acmeda, a leading specialty distributor of window covering systems.
Interact with JM Family on Facebook, Twitter, Instagram and LinkedIn.
Media Contacts
Christie Caliendo
Director, Public Relations & Integrated Marketing