JM Family Enterprises Inc. and Southeast Toyota Distributors Recognize Hunger Action Month with #ToyotaFightsHunger Social Media Campaign
October 5, 2020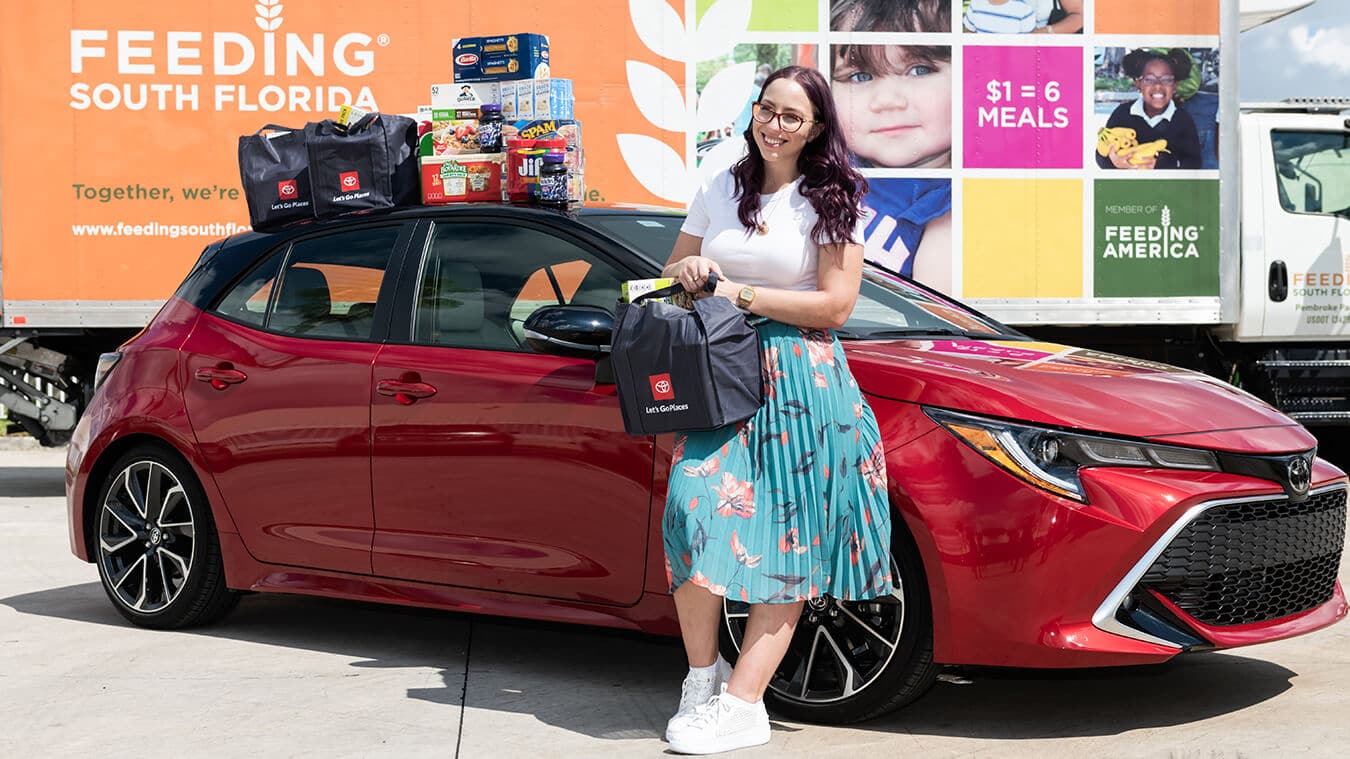 In honor of Hunger Action Month, an awareness campaign established by Feeding America in 2008 which is celebrated each September, JM Family and its subsidiary Southeast Toyota Distributors created #ToyotaFightsHunger. This campaign leveraged relationships with area social media influencers to support local Feeding America chapters throughout the company's footprint.
"JM Family and its subsidiaries have long focused a portion of their corporate giving efforts to fighting food insecurity. When the pandemic hit, this need was even more pressing as so many families struggled to make ends meet," said Lauren Fyke, public relations representative, JM Family. "The Toyota Fights Hunger campaign allowed us to support that area of giving while also showcasing the capabilities of our amazing Toyota products, as well as the caring nature of the brand and our Toyota partners."
Four influencers were selected to participate in the campaign, each receiving a $1,000 gift card to shop for non-perishable and shelf-stable food items, a check for $1,000 to be presented to the Feeding America chapter, and a week-long Toyota vehicle loan to use to deliver the donations.
Campaign participants were encouraged to post about their deliveries on social media using the hashtag #ToyotaFightsHunger.
"This is just an appreciation post to [Toyota] for letting me drive the 2021 #CorollaHatchback for a week and for a cause bigger than myself: getting food and funds donated to [Feeding South Florida]. Feeling grateful to have been a part of #ToyotaFightsHunger," posted social media influencer Alejandra Ratto of Ft. Lauderdale Foodies.
Campaign participants included:
About JM Family Enterprises, Inc.
JM Family Enterprises, Inc. was founded by automotive legend, Jim Moran in 1968. It is a privately held company with $18 billion in revenue and more than 5,000 associates. Rooted in automotive and united in its strong culture and core values, JM Family is in the business of helping other businesses succeed. As a long-term partner, it is invested in its companies, associates and its communities. Driven by exceptional performance, current subsidiaries are in the automotive, financial services, franchising and specialty distribution industries. Its family of companies includes: Southeast Toyota Distributors, the world's largest independent distributor of Toyota vehicles; JM&A Group, a company committed to improving automotive dealers' performance by offering Finance & Insurance products and services, dealership training and consulting; World Omni Financial Corp. (dba Southeast Toyota Finance), a captive financial services company driven to delivering an exceptional dealership and customer experience for Toyota customers in the Southeast; JM Lexus, one of South Florida's leading Lexus dealers; Home Franchise Concepts®, a multi-brand franchise network consisting of Budget Blinds®, The Tailored Closet™, PremierGarage®, Concrete Craft®, AdvantaClean®, Lightspeed Restoration™, Kitchen Tune-Up®, Bath Tune-Up®, Two Maids® and Aussie Pet Mobile®; and Futura Title & Escrow, a family of leading independent title and escrow companies which includes Alliance Title & Escrow, AmeriTitle, Pacific Alliance Title, and Kittitas Title and Escrow, and Rollease Acmeda, a leading specialty distributor of window covering systems.
Interact with JM Family on Facebook, Twitter, Instagram and LinkedIn.
About Southeast Toyota Distributors LLC
Southeast Toyota Distributors is the world's largest independent distributor of Toyotas. The company distributes vehicles, parts and accessories to 177 Toyota dealerships in Alabama, Florida, Georgia, and North Carolina and South Carolina. Dealers in this region sell approximately 20% of all Toyotas sold in the country. Headquartered in Deerfield Beach, Florida, its vehicle processing facilities are located in Jacksonville, Florida and Commerce, Georgia.
Southeast Toyota Distributors is a subsidiary of JM Family Enterprises, Inc., a privately held company with $18 billion in revenue and more than 5,000 associates, which is headquartered in Deerfield Beach, Florida. Interact with JM Family on Facebook, Twitter, Instagram and LinkedIn.
Media Contacts
Christie Caliendo
Director, Public Relations & Integrated Marketing