JM Family Enterprises and Its Subsidiaries Help Children Prepare to Go Back to School
August 4, 2021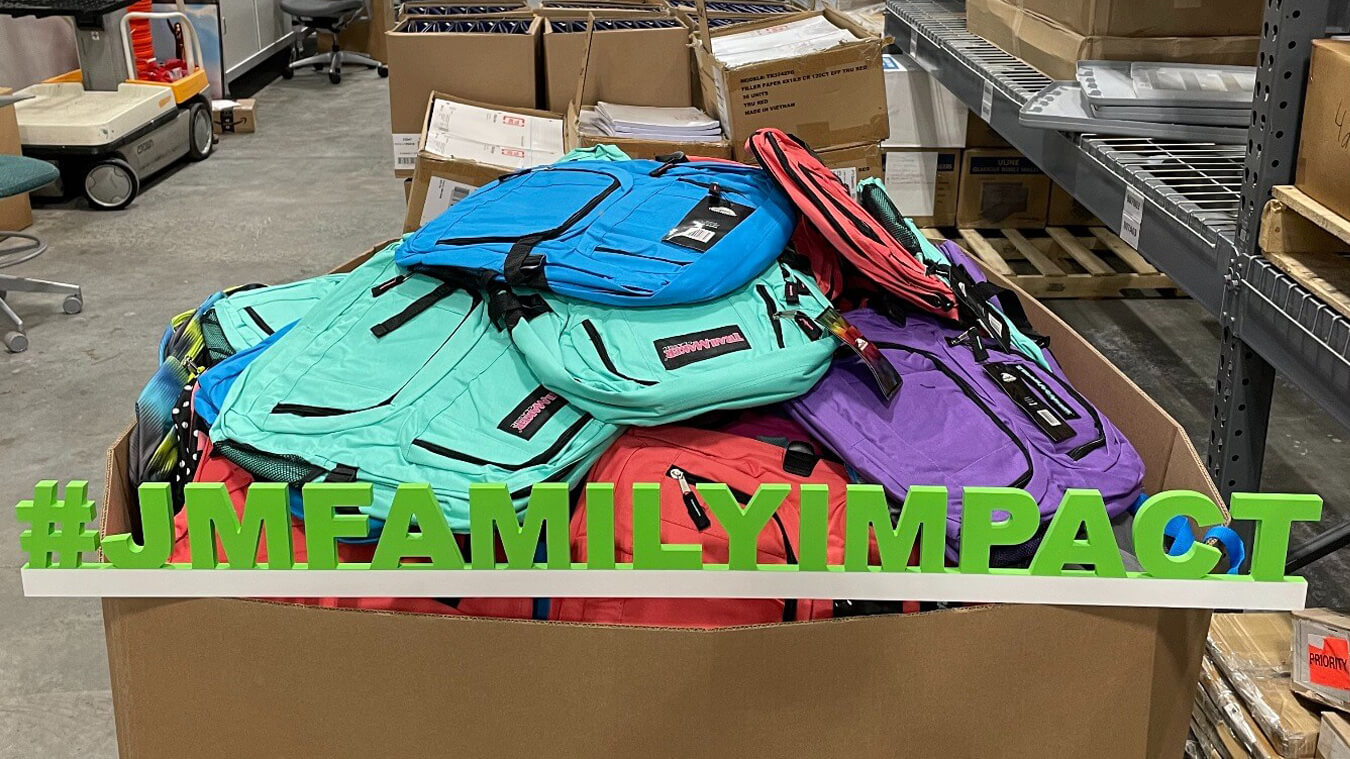 The pandemic has placed an incredible amount of pressure on schools, teachers, students and parents alike. But there's good news on the horizon as many look forward to children learning in-person with their teachers and peers.
Setting students up for success is more important than ever, and JM Family and its subsidiaries helped to bridge the gap for families by hosting back-to-school community efforts at business locations throughout the country:
Aberdeen, South Dakota
Associates at Kitchen Tune-Up, one of the Home Franchise Concepts family of brands, stuffed 150 backpacks for elementary school children. The supplies were donated to the Boys & Girls Clubs of Aberdeen Area.
Alpharetta, Georgia
More than a dozen DataScan associates stuffed 200 backpacks over two days for elementary, middle and high school children. The backpacks were delivered to the company's long-term partner at North Fulton Community Charities.
Commerce, Georgia
Associates at the company's inland vehicle processing facility rallied behind Jackson County Family Connection. They donated the school supplies to fill 100 backpacks, which were purchased by JM Family and Southeast Toyota Distributors.
Deerfield Beach, Florida
Associates from the company's headquarters filled 1,200 backpacks with various back-to-school necessities, which will be distributed by the Broward County Sheriff's Office to families in need throughout Deerfield Beach.
Jacksonville, Florida
In lieu of a hands-on project due to pandemic precautions, JM Family and Southeast Toyota Distributors made a $5,000 donation to the United Way of Northeast Florida's Stuff the Bus event.
Mobile, Alabama
JM Family and Southeast Toyota Finance made a $1,000 donation to "Operation Backpack" through Volunteers of America Southeast.
St. Louis, Missouri
JM Family made a $1,000 donation to the Youth & Family Center's backpack drive in honor of its associates.
In total, the company's back-to-school initiatives equaled more than $20,000 benefiting seven organizations and thousands of students and their families.
About JM Family's Corporate Community Impact
When he founded JM Family Enterprises, Inc. in 1968, Jim Moran instilled in the company the spirit of giving back as an integral part of who we are. We inspire action and engage our associates to strengthen the communities in which we live and work. We pursue that goal through support and volunteerism. We contribute our time and talent to impact diverse causes driven by our culture, associates and the community. JM Family's Corporate Community Impact efforts are focused on three areas of giving – empowering families, promoting education and embracing the environment.
About JM Family Enterprises
JM Family Enterprises, Inc. was founded by automotive legend, Jim Moran in 1968. It is a privately held company with $18 billion in revenue and more than 5,000 associates. Rooted in automotive and united in its strong culture and core values, JM Family is in the business of helping other businesses succeed. As a long-term partner, it is invested in its companies, associates and its communities. Driven by exceptional performance, current subsidiaries are in the automotive, financial services, franchising and specialty distribution industries. Its family of companies includes: Southeast Toyota Distributors, JM&A Group, World Omni Financial Corp. (dba Southeast Toyota Finance), JM Lexus, Home Franchise Concepts®, Futura Title & Escrow and Rollease Acmeda. Interact with JM Family on Facebook, Twitter, Instagram and LinkedIn.
Media Contacts
Christie Caliendo
Director, Public Relations & Integrated Marketing