JM Family Celebrates the Life and Legacy of Dr. Martin Luther King Jr.
January 16, 2023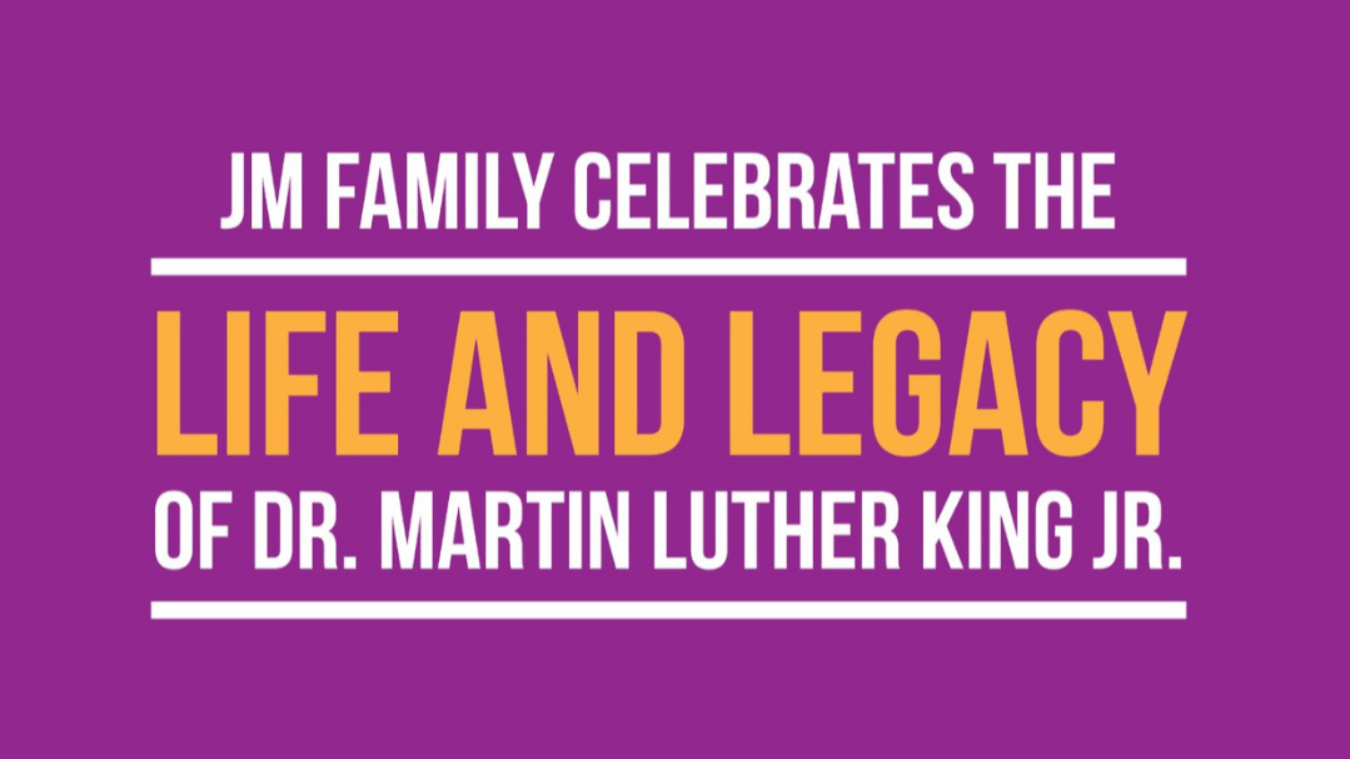 Today JM Family Enterprises celebrates Dr. Martin Luther King Jr. Day, honoring the life and legacy of the civil rights leader. As this Sunday would have marked his 94th birthday, associates have been encouraged to utilize the day for reflection, celebration and volunteerism as the company joins the nation in honoring his accomplishments.
In addition to individual donations and acts of service taking place today, JM Family is making a $25,000 contribution to the United Negro College Fund (UNCF), an American philanthropic organization that funds scholarships for black students and general scholarship funds for 37 private historically black colleges (HBCs) and universities.
Aligning with the company's mission to bring positive change across local communities where associates live and work, JM Family continued to serve as the presenting sponsor of the 19th Annual Martin Luther King Jr. Inspirational Breakfast hosted by the YMCA of South Florida which took place on Friday, January 13, 2023. The breakfast supports the YMCA's "I Have a Dream" youth scholarship fund, which helps to strengthen the local community and allows all youth to reach their full educational potential. During the event, Andre Hall, vice president and general counsel of JM Family Holdings, introduced Michelle Duster, author, public historian, professor and great-granddaughter of civil rights and women's rights activist Ida B. Wells, who served as the event's inspirational speaker.
JM Family is proud to provide safe spaces where uniqueness fuels innovation, inclusion inspires collaboration and authenticity builds a sense of belonging. As the company honors the words and works of Dr. King, associates are uplifted and supported to celebrate one another's uniqueness and become champions of justice and equality– not just today but every day.
About JM Family's Corporate Community Impact
When he founded JM Family Enterprises, Inc. in 1968, Jim Moran instilled in the company the spirit of giving back as an integral part of who we are. We inspire action and engage our associates to strengthen the communities in which we live and work. We pursue that goal through support and volunteerism. We contribute our time and talent to impact diverse causes driven by our culture, associates and the community. JM Family's Corporate Community Impact efforts are focused on three areas of giving – empowering families, promoting education and embracing the environment.
About JM Family Enterprises
JM Family Enterprises, Inc. was founded by automotive legend, Jim Moran in 1968. It is a privately held company with $18 billion in revenue and more than 5,000 associates. Rooted in automotive and united in its strong culture and core values, JM Family is in the business of helping other businesses succeed. As a long-term partner, it is invested in its companies, associates and its communities. Driven by exceptional performance, current subsidiaries are in the automotive, financial services, franchising and specialty distribution industries. Its family of companies includes: Southeast Toyota Distributors, JM&A Group, World Omni Financial Corp. (dba Southeast Toyota Finance), JM Lexus, Home Franchise Concepts®, Futura Title & Escrow and Rollease Acmeda. Interact with JM Family on Facebook, Instagram and LinkedIn.
Media Contacts
Christie Caliendo
Director, Public Relations & Integrated Marketing