JM Family Enterprises and Habitat for Humanity of Broward Dedicate Four New Homes in Pompano Beach
July 12, 2022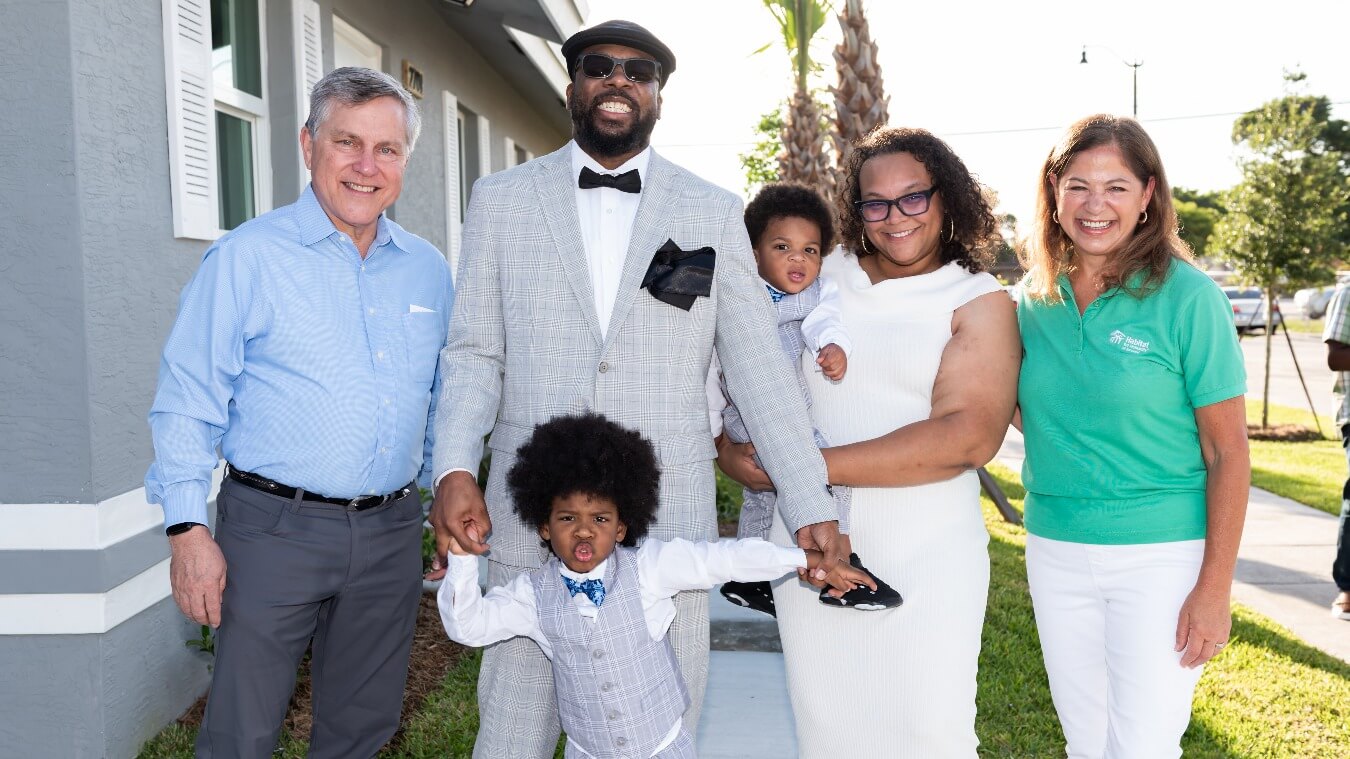 Hard-working families receive more than house keys during emotional ceremony
On a sunny Saturday in Pompano Beach, four deserving families received the keys to their brand-new homes during an emotional ceremony with Habitat for Humanity of Broward and JM Family Enterprises. As a long-time supporter of Habitat for Humanity of Broward, JM Family has now served as the Family Home Sponsor of 43 homes.
These latest four homes, located in the Collier City community of Pompano Beach, mark the first of 12 homes Habitat Broward will dedicate in the area as the organization strives to tackle Broward's affordable housing crisis.
"At JM Family, we believe passionately in the importance of giving back to our community and we can't think of a better way to do that than to help hardworking families achieve the dream of homeownership," said Brent Burns, president and CEO of JM Family, at the dedication ceremony. "Although JM Family associates help to truss, roof, paint and landscape these structures, it is the deserving families working side-by-side with our volunteers and Habitat Broward staff who turn these houses into homes."
In addition to the hard-earned and long-anticipated house keys, at the close of the ceremony JM Family also gifted each homeowner with a brand-new washer and dryer and a basket of supplies.
"To see CEOs and people who have already worked a 40-hour week come in and help me — they don't know me from a can of paint, but they came and helped me," said a grateful Meondae Stanley, who, along with his wife and two sons, will be moving from a one-bedroom apartment to their four-bedroom, two-bath home in Collier City. "We come in as good individuals and good citizens and work to make this a better place and a better environment."
Since 2002, JM Family associates have invested more than 20,000 hours into Habitat for Humanity projects throughout Broward County. In addition to the 43 homes sponsored by the company, Brent Burns has also co-chaired Habitat Broward's annual CEO Build for the past three years.
"We appreciate our partners at JM Family and the City of Pompano Beach, as together we are lifting families and a community," said Nancy Robin, CEO and executive director, Habitat for Humanity of Broward. "Not only does this step mean economic empowerment, it also means better health, better educational outcomes, less stress, more security and a better community for all."
About Habitat for Humanity of Broward
Seeking to put God's love into action, Habitat for Humanity of Broward brings people together to build homes, communities and hope. Habitat Broward offers a "hand up" not a "hand out" to low to very low-income families who are unable to qualify for conventional financing but are willing to work hard to improve their family's lives and break the intergenerational cycle of poverty. For more information about Habitat for Humanity of Broward please call (954) 396-3030 or visit habitatbroward.org or check us out on Facebook at www.facebook.com/HabitatBroward.
About JM Family's Corporate Community Impact
When he founded JM Family Enterprises, Inc. in 1968, Jim Moran instilled in the company the spirit of giving back as an integral part of who we are. We inspire action and engage our associates to strengthen the communities in which we live and work. We pursue that goal through support and volunteerism. We contribute our time and talent to impact diverse causes driven by our culture, associates and the community. JM Family's Corporate Community Impact efforts are focused on three areas of giving – empowering families, promoting education and embracing the environment.
About JM Family Enterprises
JM Family Enterprises, Inc. was founded by automotive legend, Jim Moran in 1968. It is a privately held company with $18 billion in revenue and more than 5,000 associates. Rooted in automotive and united in its strong culture and core values, JM Family is in the business of helping other businesses succeed. As a long-term partner, it is invested in its companies, associates and its communities. Driven by exceptional performance, current subsidiaries are in the automotive, financial services, franchising and specialty distribution industries. Its family of companies includes: Southeast Toyota Distributors, JM&A Group, World Omni Financial Corp. (dba Southeast Toyota Finance), JM Lexus, Home Franchise Concepts®, Futura Title & Escrow and Rollease Acmeda. Interact with JM Family on Facebook, Twitter, Instagram and LinkedIn.
Media Contacts
Christie Caliendo
Director, Public Relations & Integrated Marketing