JM Family Enterprises Achieves

WELL Health-Safety

Rating Across Business Locations
October 5, 2021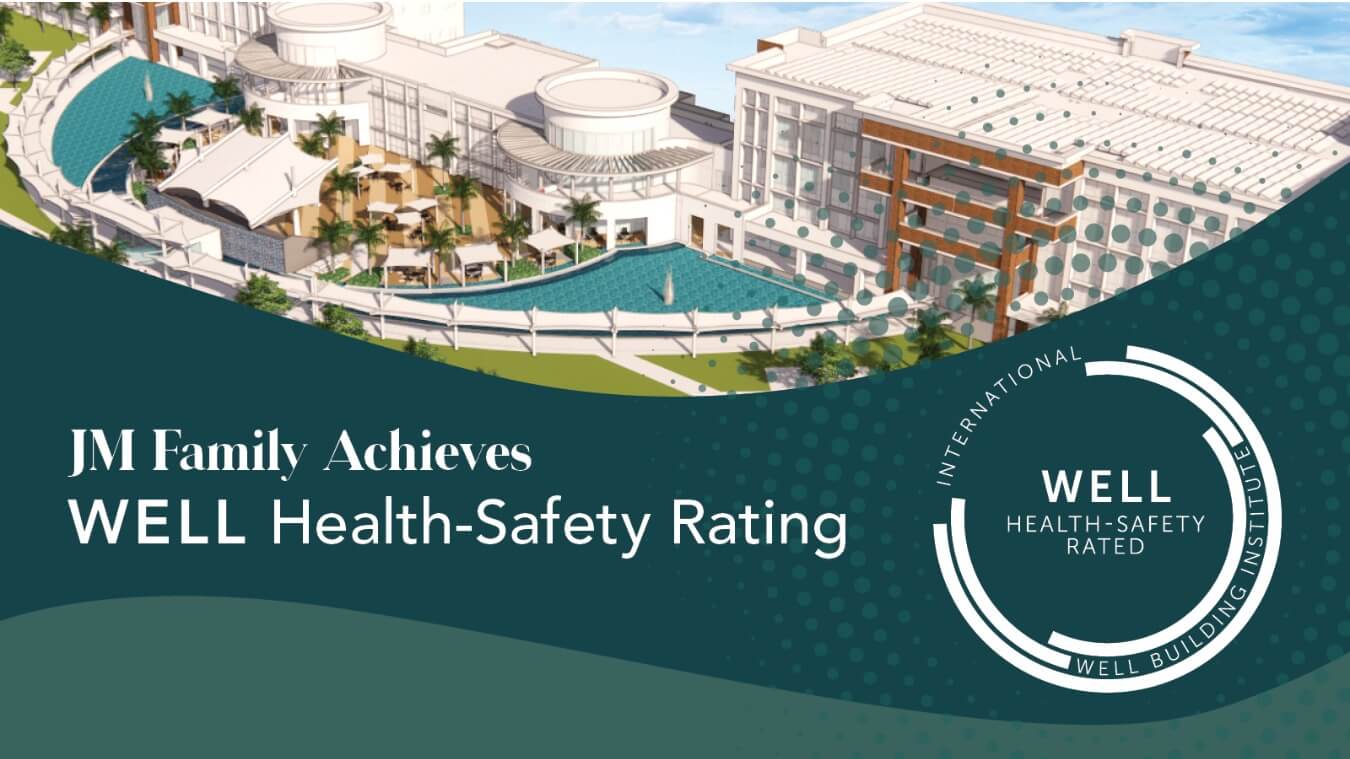 Rating and seal to indicate the safety of JM Family's buildings for associates and visitors in the wake of the COVID-19 pandemic
In May of this year, JM Family Enterprises announced that it had earned the WELL Health-Safety Rating for seven buildings at its headquarters in Deerfield Beach. The company has now revealed that it has achieved the designation for buildings across all of its company-owned business locations. All 18 rated buildings will display a seal that is good for one year.
The WELL Health-Safety Rating, which was developed by the International WELL Building Institute (IWBI), is an evidence-based, third-party verified rating for all building and facility types that focuses on operational policies, maintenance, stakeholder engagement and emergency plans to address a post-COVID-19 environment now and into the future. IWBI provides a framework for organizations that aim to advance health by setting performance standards for design, operational protocols, policies and a commitment to fostering a culture of health and wellness.
"Although providing a safe and healthy work environment has always been a priority, the past year and a half has solidified our commitment to this focus," said Brent Burns, president and CEO, JM Family. "With this rating, we're honored to now be getting credit for universal JM Family standards that are already in place across all locations."
WELL Health-Safety Rating focus areas include: cleaning and sanitization, health service resources, emergency preparedness plans, air and water quality management, and stakeholder engagement and communication.
The WELL Health-Safety Rating provides a centralized source and governing body to validate efforts made by owners and operators. It leverages insights drawn from the IWBI Task Force on COVID-19, the World Health Organization (WHO), U.S. Centers for Disease Control and Prevention (CDC), global disease control and prevention centers and emergency management agencies, as well as recognized standard-making associations such as ASTM International and ASHRAE, and leading academic and research institutions.
International WELL Building Institute, IWBI, the WELL Building Standard, WELL v2, WELL Certified, WELL AP, WELL Portfolio, WELL Portfolio Score, The WELL Conference, We Are WELL, the WELL Community Standard, WELL Health-Safety Rating, WELL Health-Safety Rated, WELL Workforce, WELL and others, and their related logos are trademarks or certification marks of International WELL Building Institute pbc in the United States and other countries.
About JM Family Enterprises, Inc.
JM Family Enterprises, Inc. was founded by automotive legend, Jim Moran in 1968. It is a privately held company with $18 billion in revenue and more than 5,000 associates. Rooted in automotive and united in its strong culture and core values, JM Family is in the business of helping other businesses succeed. As a long-term partner, it is invested in its companies, associates and its communities. Driven by exceptional performance, current subsidiaries are in the automotive, financial services, franchising and specialty distribution industries. Its family of companies includes: Southeast Toyota Distributors, the world's largest independent distributor of Toyota vehicles; JM&A Group, a company committed to improving automotive dealers' performance by offering Finance & Insurance products and services, dealership training and consulting; World Omni Financial Corp. (dba Southeast Toyota Finance), a captive financial services company driven to delivering an exceptional dealership and customer experience for Toyota customers in the Southeast; JM Lexus, one of South Florida's leading Lexus dealers; Home Franchise Concepts®, a multi-brand franchise network consisting of Budget Blinds®, The Tailored Closet™, PremierGarage®, Concrete Craft®, AdvantaClean®, Lightspeed Restoration™, Kitchen Tune-Up®, Bath Tune-Up®, Two Maids® and Aussie Pet Mobile®; and Futura Title & Escrow, a family of leading independent title and escrow companies which includes Alliance Title & Escrow, AmeriTitle, Pacific Alliance Title, Kittitas Title and Escrow, and Momentum Title Agency; and Rollease Acmeda, a leading specialty distributor of window covering systems.
Interact with JM Family on Facebook, Instagram and LinkedIn.
Media Contacts
Christie Caliendo
Director, Public Relations & Integrated Marketing