Habitat for Humanity of Broward Raises Awareness and More Than $300,000 during Fourth Annual CEO Build in Pompano Beach
May 31, 2023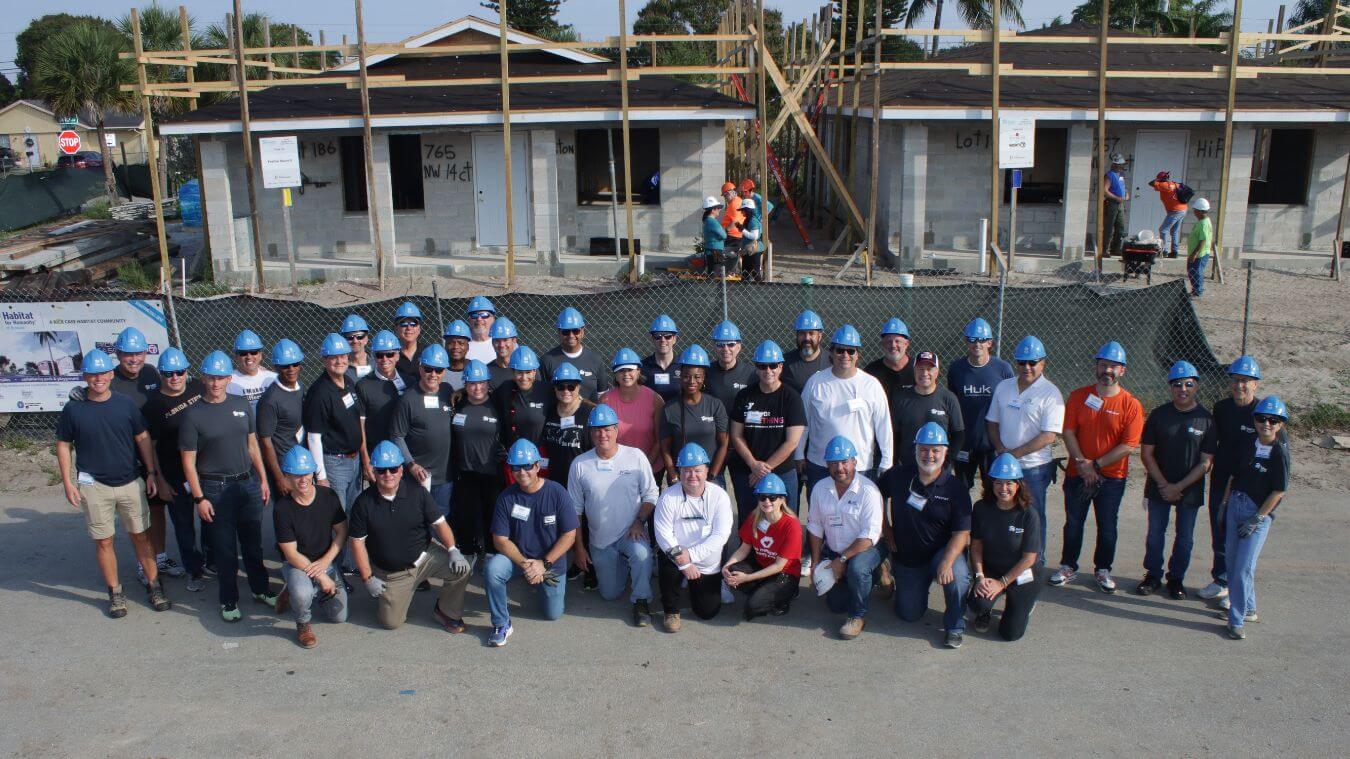 More than 50 CEOs and C-suite leaders from many of South Florida's largest companies came together to raise awareness and more than $300,000 in support of affordable workforce housing in Broward County during Habitat for Humanity of Broward's fourth annual CEO Build. The task at hand for the event included top executives dedicating time and effort to help roof four homes at "A Rick Case Habitat Community," an historic 76-home community in Pompano Beach.
Event co-chairs Brent Burns, president and CEO of JM Family Enterprises, and Keith Koenig, chairman of City Furniture, led the task force to support affordable workforce housing in Broward County, the most cost-burdened housing market in the country.
"These CEO Build participants understand the critical need for affordable workforce housing in our community and chose to be a force for change and be a part of the solution," said Nancy Robin CEO and executive director of Habitat for Humanity of Broward. "They collectively lead hundreds of thousands of employees."  
By June of this year, 58 homes will be completed in "A Rick Case Habitat Community." Additionally, Habitat Broward has acquired land and plans to build 20 townhomes in the "BBI Village" community in Fort Lauderdale and 13 townhomes in Coral Springs.
"We are always humbled by the opportunity to serve shoulder to shoulder with these hard-working families whose sweat equity helps earn them an affordable mortgage," said Burns. "We hope this build can be a rallying cry to other companies who want to join this important mission. There is great need in our community and together we can make a significant, impactful difference for those who need it most."
In addition to event co-chairs Brent Burns and Keith Koenig, leaders from Advanced Roofing, Amerant Bank, ANF Group, Ansin Foundation/WSVN Channel 7, Austin Pamies Norris Weeks Powell PLLC., Bank of America, BBI, BDO, Brandstar, Brody & Associates, Broward College, Campbell Property Management/Campbell & Rosemurgy Real Estate, Castle Group, Celebrity Cruise, City of Deerfield Beach, Community Foundation of Broward, Denison Yachting, Falcone & Associates, Festus and Helen Stacy Foundation, Florida Panthers, Florida Power & Light, Frederick A. DeLuca Foundation, GL Homes, Greater Fort Lauderdale Alliance, Gulf Building, Gunster, Health Business Solutions, HEICO, Holy Cross Health, Hudson Family Foundation, Joe DiMaggio Children's Hospital, Joe Rose, Katz Barron, Kaufman Lynn Construction, Memorial Healthcare System, Mesirow Financial, Miller Construction, Mohsin and Fauzia Jaffer Foundation, PNC Bank, Representative Chip LaMarca, Rick Case Automotive Group, Rogers, Morris & Ziegler LLP, Seminole Casino Coconut Creek, Seminole Classic Casino, Seminole Hard Rock Hotel & Casino, Hollywood, Seminole Hard Rock Support Services, SIXT, South Florida Business Journal, South Florida Physical Therapy and Sports Rehab, Sunshine Health and Tripp Scott were present at the build.
About Habitat for Humanity of Broward
Seeking to put God's love into action, Habitat for Humanity of Broward brings people together to build homes, communities, and hope. Habitat Broward offers a "hand up" not a "hand out" to families who are unable to qualify for conventional home financing but are willing to work hard to improve their family's lives and achieve the economic empowerment of homeownership. For more information about Habitat for Humanity of Broward please call (954) 396-3030 or visit habitatbroward.org or check us out on Facebook at www.facebook.com/HabitatBroward.
About JM Family's Corporate Community Impact
When he founded JM Family Enterprises, Inc. in 1968, Jim Moran instilled in the company the spirit of giving back as an integral part of who we are. We inspire action and engage our associates to strengthen the communities in which we live and work. We pursue that goal through support and volunteerism. We contribute our time and talent to impact diverse causes driven by our culture, associates and the community. JM Family's Corporate Community Impact efforts are focused on three areas of giving – empowering families, promoting education and embracing the environment.
About JM Family Enterprises
JM Family Enterprises, Inc. was founded by automotive legend, Jim Moran in 1968. It is a privately held company with $18 billion in revenue and more than 5,000 associates. Rooted in automotive and united in its strong culture and core values, JM Family is in the business of helping other businesses succeed. As a long-term partner, it is invested in its companies, associates and its communities. Driven by exceptional performance, current subsidiaries are in the automotive, financial services, franchising and specialty distribution industries. Its family of companies includes: Southeast Toyota Distributors, JM&A Group, World Omni Financial Corp. (dba Southeast Toyota Finance), JM Lexus, Home Franchise Concepts®, Futura Title & Escrow and Rollease Acmeda. Interact with JM Family on Facebook, Twitter, Instagram and LinkedIn.
Media Contacts
Christie Caliendo
Director, Public Relations & Integrated Marketing