Discovery Spot Presented by JM Family Opens at Museum of Discovery and Science
September 7, 2023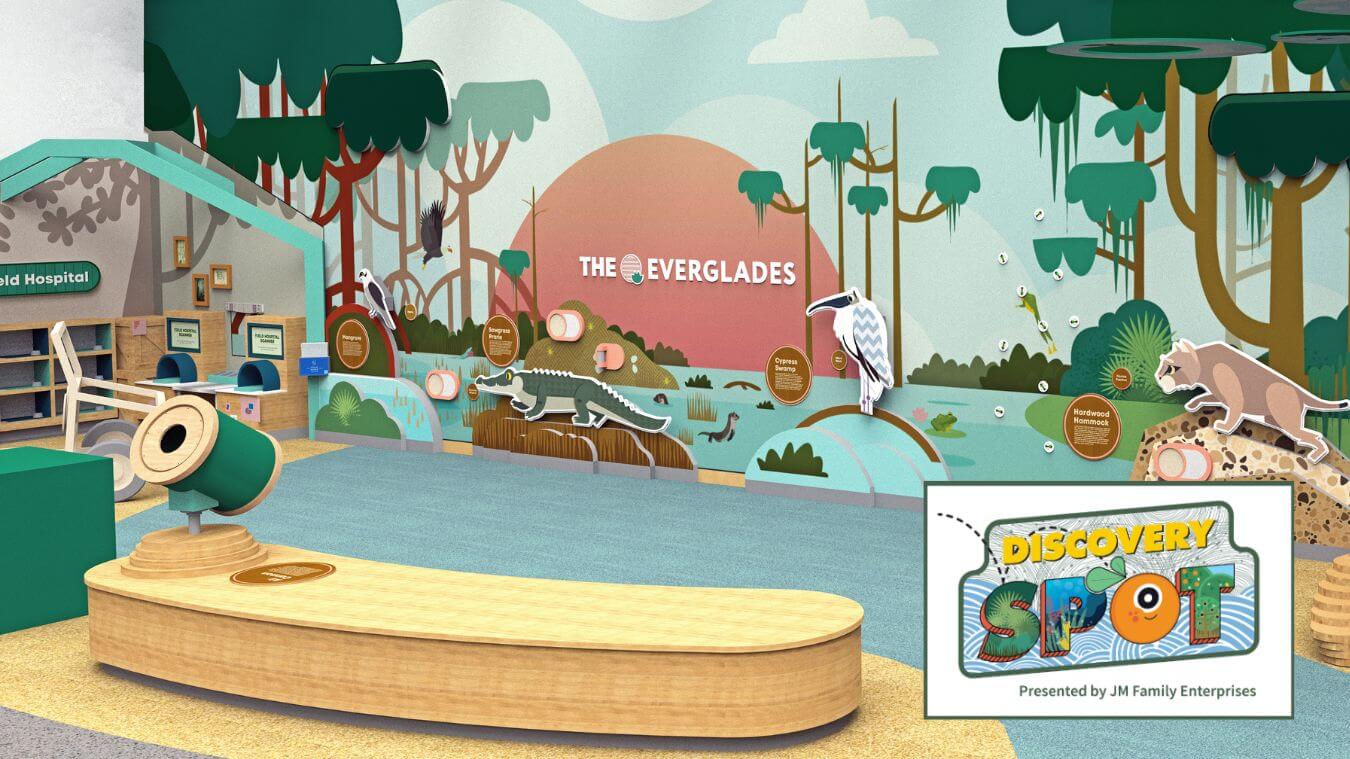 Children are invited to explore iconic Florida environments and experiences at the Museum of Discovery and Science's (MODS) new early childhood exhibit, Discovery Spot Presented by JM Family. Designed especially for early learners up to six years old and their families, the fun and engaging space offers a world of exploration supporting children's open-ended, role-playing and imaginative play. Highlighting three quintessential local areas, children are invited to splash, climb, tinker and explore in the Everglades, a Citrus Grove and from the Ocean to Air.
"JM Family has been supporting the Museum of Discovery and Science since 1993 because we feel that what they do is a valuable part of our community," said Josh Bass, JM&A Group's vice president of Data, Analytics and Product Insights and MODS board member. "Promoting education is one of JM Family's strategic areas of giving, and this new STEM exhibit will increase the opportunities for discovery and interactive experiences for the Museum's guests of all ages."
The initial exhibit, the Discovery Center, paid homage to the museum's original name and has been a permanent fixture at the museum since 1992 where it has since welcomed more than 12 million guests from every state and countless countries. Covering 4,000 square feet of museum space, the new Discovery Spot aims to encourage playful exploration and STEM experiences leading to lifelong learning for all families.
"Early childhood education is in our DNA, dating back to our beginning in 1976 as the Discovery Center," said Joseph P. Cox, MODS' president and CEO. "The new Discovery Spot will allow our community's youngest scientists to take their very first steps in science."
Designed from the ground up with the aim of supporting the needs of all families, the Discovery Spot offers numerous opportunities for adult-child collaboration in zones packed with one-of-a-kind experiences including:
Sketch & Release – Creatives of all ages are welcome to bring Florida's ecosystem to life by digitally painting native fish and sharks before releasing them into a computerized ocean.
Cloud Climber – Ascend high in the sky well… above the exhibit floor and walk the wings of a biplane suspended from the space's ceiling.
Juicing Factory – From the swirling water in the washing station to the brightly colored juicing tubes, the whirling machinery pays homage to the museum's Great Gravity Clock, also supported by JM Family.
Admission to the exhibit is included with the purchase of a ticket to MODS. Upon entering the museum, guests will receive a timed entry card at the box office on a first-come-first-served basis. For more information, please visit mods.org.
About the Museum of Discovery and Science
Founded in 1976 as the Discovery Center, today the Museum of Discovery and Science (MODS) is at the forefront of science education, innovation and exploration. MODS connects people to inspiring science, providing STEM education and cultural experiences for 450,000+ visitors annually in the 150,000 sq. ft. facility. MODS is a 501 (c)(3) nonprofit organization that has been accredited by the American Alliance of Museums (AAM) for three decades (only 3% of science museums are accredited for excellence and leadership in the field). In the past year, MODS has added to that distinction by being named Broward's Hub for Resilience Education by the Board of the Community Foundation of Broward, selected by the LEGO Foundation as one of only 12 museums nationwide to join the Playful Learning Museum Network and was selected as one of 15 finalists for the prestigious 2022 IMLS National Medal for Museum Service.
The Museum celebrates diversity and welcomes visitors from all walks of life. The Museum hours are Monday through Saturday 10 a.m. to 5 p.m. and Sunday 12 p.m. to 5 p.m. MODS is located downtown at 401 SW Second Street, Fort Lauderdale, Florida 33312. For more information about the Museum, please visit mods.org or call 954.467.MODS (6637).
About JM Family Enterprises
JM Family Enterprises, Inc. was founded by automotive legend, Jim Moran in 1968. It is a privately held company with $18 billion in revenue and more than 5,000 associates. Rooted in automotive and united in its strong culture and core values, JM Family is in the business of helping other businesses succeed. As a long-term partner, it is invested in its companies, associates and its communities. Driven by exceptional performance, current subsidiaries are in the automotive, financial services, franchising and specialty distribution industries. Its family of companies includes: Southeast Toyota Distributors, JM&A Group, World Omni Financial Corp. (dba Southeast Toyota Finance), JM Lexus, Home Franchise Concepts®, Futura Title & Escrow and Rollease Acmeda. Interact with JM Family on Facebook, Twitter, Instagram and LinkedIn.
Media Contacts
Christie Caliendo
Director, Public Relations & Integrated Marketing