Deerfield Beach High School Students Partner with JM Family Associates to Learn About Legal Careers
with Street Law
July 24, 2023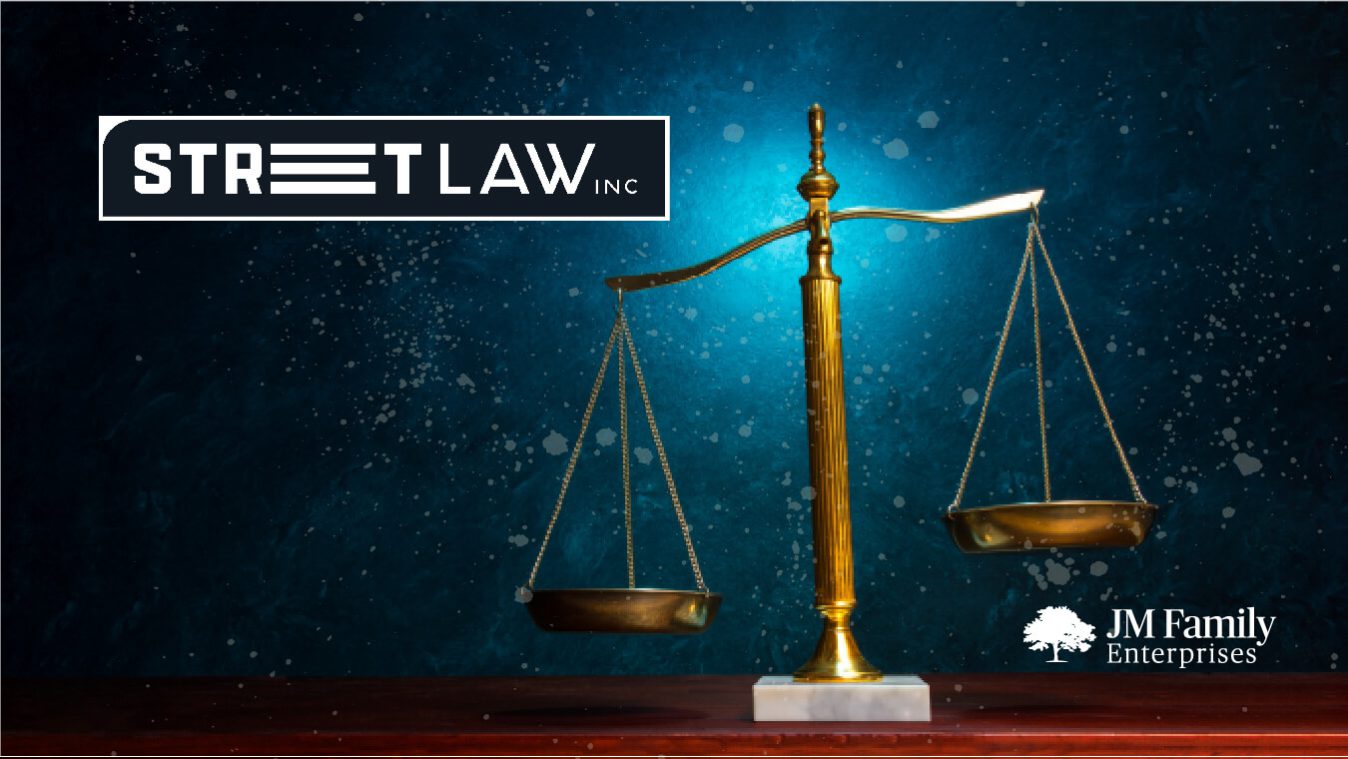 JM Family recently collaborated with Street Law, a global, non-profit organization, to sponsor the South Florida-based Corporate Legal Diversity Pipeline Program. As part of the initiative, 30 students from Deerfield Beach High School who are enrolled in the International Baccalaureate (IB) program participated in a month-long series of in-person sessions, culminating with the capstone event at JM Family's Deerfield Beach headquarters. Street Law is focused on advancing civic and law-related education to empower positive transformation in the world.
With this being JM Family's third year participating, 19 associates throughout the company's legal departments and Enterprise Risk Office volunteered their time and expertise to work with the students. The program placed an emphasis on both environmental and immigration law, helping participants to connect directly with a variety of industry experts and engage in mock hearings.
"This program allows our associates to share their breadth of knowledge with these hard-working students while touching on real-world issues," said Steve Artusi, senior vice president, General Counsel and Corporate Services, JM Family Enterprises. "As we continue our pursuit of enhancing the communities where we live and work through our charitable giving and volunteerism, we're honored to play a part in impacting the next generation of our Deerfield Beach community through this partnership."
Drawing from decades of experience and expertise, The Corporate Legal Diversity Pipeline Program connects students and legal professionals, helping to encourage the pursuit of legal careers by young people from groups currently underrepresented in the profession. The program partners law firms and corporate legal departments with nearby high school classes in an effort to engage with students, teach them about the law and encourage them to consider related careers.
"With the support of organizations like JM Family and their generous associates, we are able to carefully construct programs that meet the needs of young people and provide long-term sustainability," said Joy Dingle, senior director of Legal Diversity Initiatives, Street Law. "These powerful initiatives equip communities with legal and civic knowledge, skills and confidence– helping to advance justice and create positive change."
At the end of the program, students were invited to JM Family headquarters where a panel made up of an environmental engineer, a Broward County Judge and law firm partners connected with the students to provide insight and guidance on future legal and legal-related professions.
"This yearly program provides our students with the unique opportunity to learn not just about our laws but also engage in hands-on simulations. This allowed them to truly develop their critical thinking and problem-solving skills," said William Collazo, IB Theory of Knowledge teacher, Deerfield Beach High School. "By working with organizations like JM Family and Street Law that support teaching our students in and out of the classroom, it allows us to bring lessons to life and share how our legal system can impact their daily lives."
About Street Law
Since 1972, Street Law, Inc. has been advancing justice by providing classroom and community education programs that empower people with the legal and civic knowledge, skills, and confidence to bring about positive change for themselves and others. Street Law programs are practical, relevant, and participatory—combining legal content with innovative teaching strategies that engage students in the learning process. Each year these programs reach hundreds of thousands of people across the United States and around the world.
Street Law's Legal Diversity Pipeline Program aims to address the dearth of diversity in the legal profession by pairing volunteer legal professionals with high school law classes to teach young people about law and pathways to careers in the legal sector. More than 75 companies and law firms across the country annually reach 3,500 diverse high school students with legal lessons, legal simulations, and career exploration activities.
About JM Family Enterprises
JM Family Enterprises, Inc. was founded by automotive legend, Jim Moran in 1968. It is a privately held company with $18 billion in revenue and more than 5,000 associates. Rooted in automotive and united in its strong culture and core values, JM Family is in the business of helping other businesses succeed. As a long-term partner, it is invested in its companies, associates and its communities. Driven by exceptional performance, current subsidiaries are in the automotive, financial services, franchising and specialty distribution industries. Its family of companies includes: Southeast Toyota Distributors, JM&A Group, World Omni Financial Corp. (dba Southeast Toyota Finance), JM Lexus, Home Franchise Concepts®, Futura Title & Escrow and Rollease Acmeda. Interact with JM Family on Facebook, Twitter, Instagram and LinkedIn.
Media Contacts
Christie Caliendo
Director, Public Relations & Integrated Marketing