Colin Brown Named a Churchill Fellows Inductee
March 19, 2020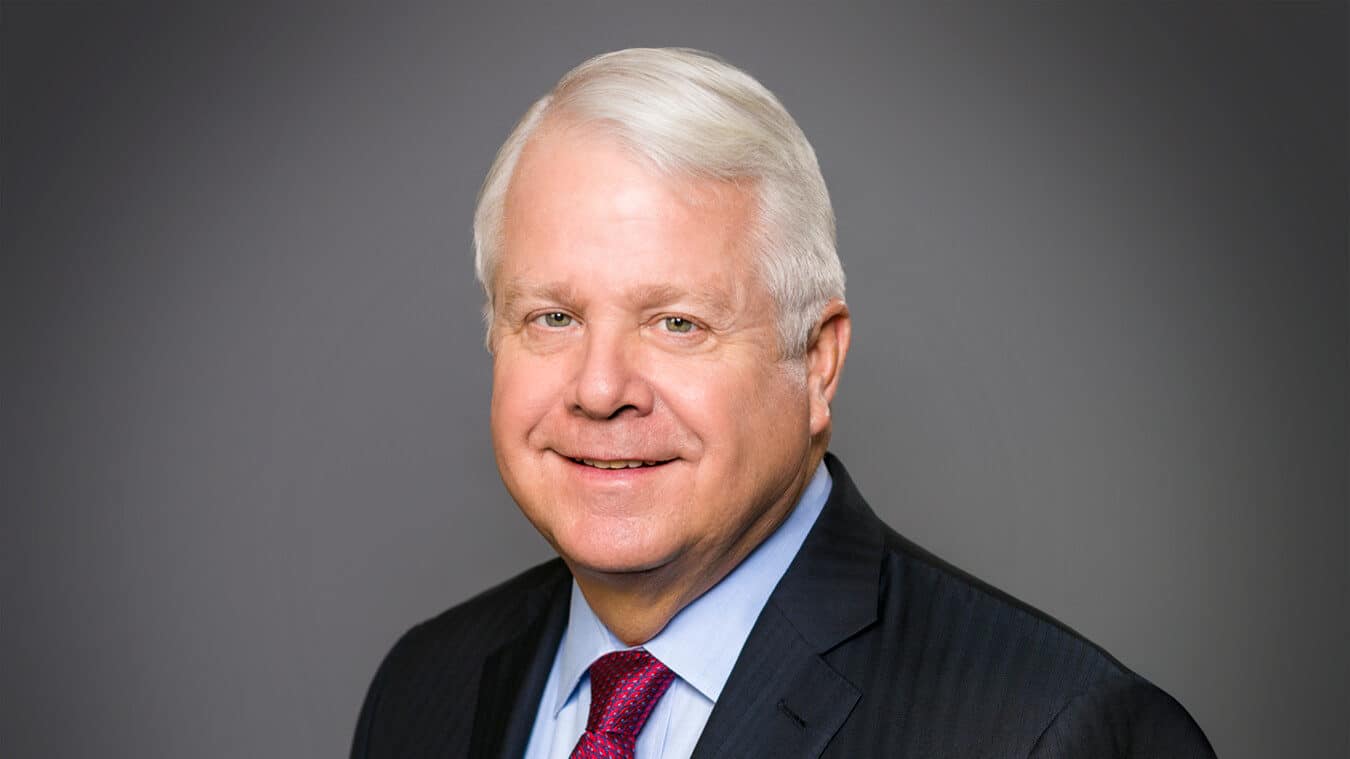 Colin Brown, chairman of the board, JM Family Enterprises, is among the three distinguished authors, two CEOs, an admiral, general and a federal judge to have been named new Association of Churchill Fellows, despite the cancellation of an induction ceremony.
The new fellows were nominated by the America's National Churchill Museum's Board of Governors. Typically new fellows are inducted during museum's annual Churchill Weekend, but this year's festivities have been postponed due to concerns over COVID-19.
The association describes itself as an honorary society recognizing leaders in industry, commerce, statecraft and in the arts and sciences. It is among the key organizations that support America's National Churchill Museum, the only museum in North America that commemorates the life and times of former British Prime Minister Winston S. Churchill and his legacy of leadership.
"Our newest fellows have distinguished themselves by their vision, values, and service, very much like Churchill himself," said Timothy Riley, a Churchill Fellow and the Sandra L. and Monroe E. Trout Director and Chief Curator of America's National Churchill Museum. "The accomplishments of these individuals are true examples of Churchillian leadership in the military, historical scholarship, the law and commerce."
In alphabetical order, the 2020 new Churchill Fellows include:
Colin Brown, of Lighthouse Point, Broward County, Florida: Brown is chairman of the board of JM Family Enterprises, Inc., a $17.75 billion diversified automotive company ranked No. 20 on Forbes' list of America's Largest Private Companies. Since 1992, when he joined the company, Brown has held the posts of vice president and general counsel, COO, and president. He also served as president and CEO until July 2018, when he was named chairman. JM Family's subsidiaries include Southeast Toyota Distributors, JM&A Group, Southeast Toyota Finance, JM Lexus and Home Franchise Concepts. Based in Deerfield Beach, Florida, the company has major operations in Florida, Georgia, Alabama, Missouri and California. Brown graduated from Duke University School of Law with a Juris Doctorate. He also holds a Bachelor of Arts degree from Williams College in Williamstown, Massachusetts. Brown is on the board of advisors for Duke University School of Law and on the board of the Williams College Alumni Fund.
U.S. Navy Vice Adm. (Retired) Michael T. Franken, of Sioux City, Iowa: Franken, who enjoyed a highly successful career in the U.S. Navy, was the first commanding officer of the USS Winston S. Churchill. The 9,500-ton, 510-foot-long destroyer was commissioned in March 2001 in ceremonies that included Lady Mary Soames, Sir Winston Churchill's daughter. It also is the only U.S. Naval war ship to have a Royal Navy officer assigned to its company. Franken had a great Naval career serving aboard guided missile destroyers and other warships, being assigned as deputy for military operations with the U.S. Africa Command, and serving as vice director at U.S. Central Command. Ashore, Franken also served in six operational staffs, including two readiness squadrons and a four-star fleet command. He also was a congressional affairs officer for the Secretary of the Navy, the Chief of Naval Operations' Executive Panel, and the Joint Staff's Joint Operations Division. Franken graduated from the College of Engineering at the University of Nebraska, and the College of Physics at the Naval Postgraduate School.
Keith S. Harbison, of St. Louis: Harbison is the founder of St. Louis-based investment and management company Alitus Partners, which specializes in providing capital and operational expertise to corporate clients. Alitus is a direct investment platform that acquires small operating companies with $10 million-$50 million in revenue, and then owns them for 10-20 years. In this way, Alitus functions more like an operating partner to business owners rather than a private equity group. He started Alitus in 2014 after serving as chairman and president of St. Louis-based Pretium Packaging, one of the largest plastic bottle manufacturers in North America. He acquired the company in 1992, and grew its sales from $4.5 million to $230 million before selling it to a private equity firm in 2010. Prior to Pretium, Harbison was involved in commercial real estate development and office building construction for tenants such as IBM, Citicorp, and Hewlett Packard. He also was a co-founder, officer and director of Com-Link 21, a long-distance resale company that was later sold to MCI WorldCom.
U.S. Air Force Lt. Gen. (Retired) Richard C. Harding, of Columbia, Missouri: Harding, who served in the Air Force from 1980-2014, was The Judge Advocate General in Washington, D.C. In that role, he was the chief legal adviser to the Secretary of the Air Force and had professional oversight of about 4,000 judge advocates, civilian attorneys, enlisted paralegals, and civilian attorneys representing the Air Force worldwide. He also oversaw military justice, operational and international law, and civil law functions at every level of command. Harding previously served as the Commander, Air Force Legal Operations Agency, at Joint Base Anacostia —Bolling in Washington, D.C. He earned his Bachelor of Science degree from the University of Arkansas, Fayetteville, in 1975, and his Juris Doctor degree in 1979 from the University of Arkansas School of Law, Fayetteville.
Erik Larson, of New York City: Erik Larson is the author of eight books, six of which became New York Times bestsellers. His latest books, "The Splendid and the Vile: A Saga of Churchill, Family, and Defiance During the Blitz" and "Dead Wake: The Last Crossing of the Lusitania" both hit No. 1 on the list soon after launch. His saga of the Chicago World's Fair of 1893, "The Devil in the White City," was a finalist for the National Book Award and won an Edgar Award for true-crime writing.

The Honorable Michael Yale Scudder Jr., of Chicago: Michael Yale Scudder is a judge on the U.S. Court of Appeals for the Seventh Circuit, a post he has held since May 21, 2018, when his appointment by President Donald Trump was confirmed. Previously, he was a partner in the Chicago office of Skadden, Arps, Slate, Meagher & Flom. A native of Fort Wayne, Indiana, Scudder earned his Bachelor of Business Administration from Saint Joseph's College, and a Juris Doctor degree in 1998 from the Northwestern University Pritzker School of Law. Before entering private practice, Scudder served as a law clerk to Judge Paul V. Niemeyer of the U.S. Court of Appeals in Richmond, Virginia, and to Associate Justice Anthony Kennedy, of the U.S. Supreme Court. He also has served as an attorney at Jones Day in Cleveland, Ohio, as an Assistant U.S. Attorney for the Southern District of New York, and as Counsel to the Deputy Attorney General on the National Security team. From 2007-09, he served in the White House Counsel's office and as the General Counsel of the National Security Council. Scudder has taught at the Pritzker Law School since 2009, and since 2013 at the University of Chicago Law School.

Cita Stelzer, of Scottsdale, Arizona: Stelzer is a freelance editor and journalist, and a research associate at the Hudson Institute, a Washington, D.C.-based thinktank that challenges conventional thinking and helps manage strategic transitions to the future through interdisciplinary studies in defense, international relations, economics, health care, technology, culture and law. Stelzer also is the author of two highly successful books about Churchill: "Dinner with Churchill" and "Working with Winston: The Unsung Women Behind Britain's Greatest Statesman." Earlier in her career, Stelzer worked for New York Mayor John Lindsay and New York Gov. Hugh Carey. She is currently a reader at Churchill College, Cambridge, and a member of the Board of the Churchill Centre (United Kingdom).
About JM Family Enterprises, Inc.
JM Family Enterprises, Inc. was founded by automotive legend, Jim Moran in 1968. It is a privately held company with $18 billion in revenue and more than 5,000 associates. Rooted in automotive and united in its strong culture and core values, JM Family is in the business of helping other businesses succeed. As a long-term partner, it is invested in its companies, associates and its communities. Driven by exceptional performance, current subsidiaries are in the automotive, financial services, franchising and specialty distribution industries. Its family of companies includes: Southeast Toyota Distributors, the world's largest independent distributor of Toyota vehicles; JM&A Group, a company committed to improving automotive dealers' performance by offering Finance & Insurance products and services, dealership training and consulting; World Omni Financial Corp. (dba Southeast Toyota Finance), a captive financial services company driven to delivering an exceptional dealership and customer experience for Toyota customers in the Southeast; JM Lexus, one of South Florida's leading Lexus dealers; Home Franchise Concepts®, a multi-brand franchise network consisting of Budget Blinds®, The Tailored Closet™, PremierGarage®, Concrete Craft®, AdvantaClean®, Lightspeed Restoration™, Kitchen Tune-Up®, Bath Tune-Up®, Two Maids® and Aussie Pet Mobile®; and Futura Title & Escrow, a family of leading independent title and escrow companies which includes Alliance Title & Escrow, AmeriTitle, Pacific Alliance Title, and Kittitas Title and Escrow, and Rollease Acmeda, a leading specialty distributor of window covering systems.
Interact with JM Family on Facebook, Twitter, Instagram and LinkedIn.
Media Contacts
Christie Caliendo
Director, Public Relations & Integrated Marketing