Associates Quack Up Over First-Ever Duck Pluck
April 8, 2022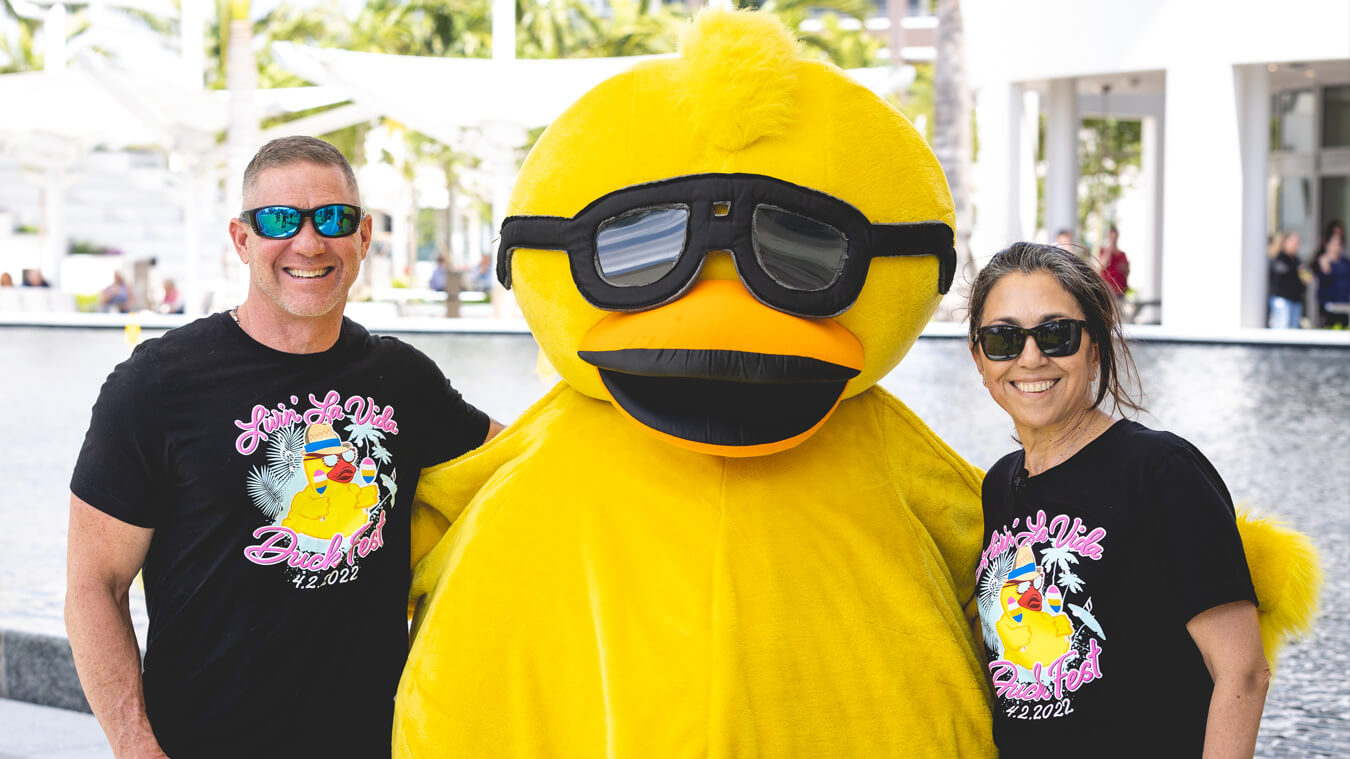 JM Family Enterprises hosted an on-campus fundraiser to support longtime partner Kids In Distress
Associates at JM Family Enterprises were feeling duckie on Thursday, March 31 as nearly 2,000 yellow rubber duckies were released into the company's on-campus reflecting pools. The bath time invasion was part of JM Family's first-ever Duck Pluck, a new fundraising initiative in support of longtime community partner Kids In Distress (KID).
During the JM Family Duck Pluck associates waddled out to The Park at the company's newly renovated Deerfield Beach campus, for snacks, music and to watch as hundreds of associate-adopted yellow rubber duckies floated around the reflecting pools. Then, Carmen Johnson, JM Family's executive vice president of Human Resources and Legal and KID board member, donned pink waders and trudged into the pool to select 15 lucky ducks to win an array of prizes.
"We admire the incredible work KID does in our community and have been a longtime supporter of their Duck Fest Derby," said Johnson. "This year, we wanted to further our commitment by creating our own version of this iconic fundraiser here on campus, building not only additional funds, but some excitement amongst our associates who enjoyed the opportunity to get involved and give back."
Ducks were available for "adoption" for $5. In addition to the prizes at JM Family's Duck Pluck event, these ducks were also eligible for the grand prize of $10,000, which was given away at the Kids In Distress Duck Fest Derby on Saturday, April 2. In total, JM Family associates purchased 1,640 ducks and donated a total of $8,000.
Kids In Distress is dedicated to preventing child abuse, preserving families, and treating children who have been abused and neglected. For more information, visit kidinc.org.
About JM Family's Corporate Community Impact
When he founded JM Family Enterprises, Inc. in 1968, Jim Moran instilled in the company the spirit of giving back as an integral part of who we are. We inspire action and engage our associates to strengthen the communities in which we live and work. We pursue that goal through support and volunteerism. We contribute our time and talent to impact diverse causes driven by our culture, associates and the community. JM Family's Corporate Community Impact efforts are focused on three areas of giving – empowering families, promoting education and embracing the environment.
About JM Family Enterprises
JM Family Enterprises, Inc. was founded by automotive legend, Jim Moran in 1968. It is a privately held company with $18 billion in revenue and more than 5,000 associates. Rooted in automotive and united in its strong culture and core values, JM Family is in the business of helping other businesses succeed. As a long-term partner, it is invested in its companies, associates and its communities. Driven by exceptional performance, current subsidiaries are in the automotive, financial services, franchising and specialty distribution industries. Its family of companies includes: Southeast Toyota Distributors, JM&A Group, World Omni Financial Corp. (dba Southeast Toyota Finance), JM Lexus, Home Franchise Concepts®, Futura Title & Escrow and Rollease Acmeda. Interact with JM Family on Facebook, Instagram and LinkedIn.
Media Contacts
Christie Caliendo
Director, Public Relations & Integrated Marketing