Associates Get Outdoors for National Public Lands Day
October 28, 2021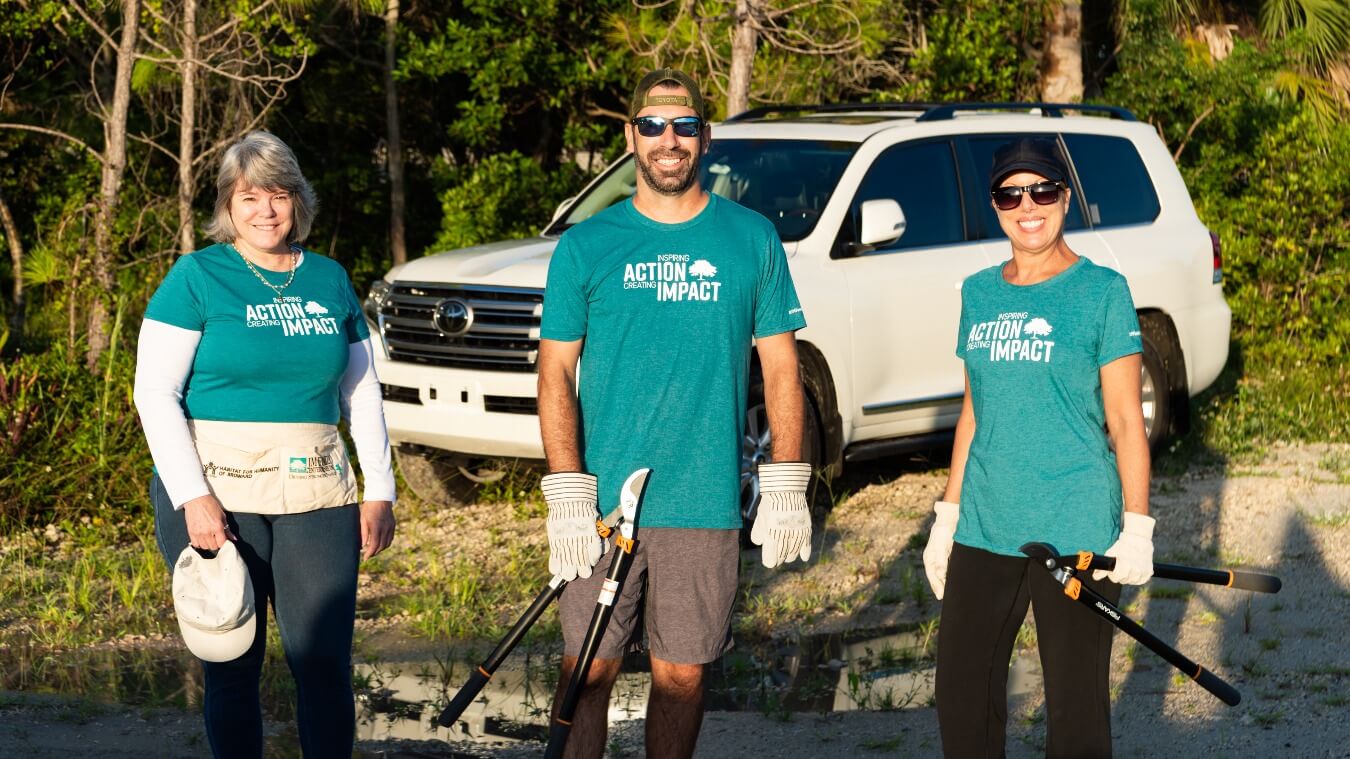 Celebrated annually on the fourth Saturday in September, National Public Lands Day (NPLD) is traditionally the nation's largest single-day volunteer effort. This day recognizes the connection between people and green space in their community, inspires environmental stewardship, and encourages use of open space for education, recreation and health benefits.
"Although National Public Lands Day is traditionally a single-day effort, we decided to spread the love this year, hosting outdoor community volunteer initiatives throughout our footprint across several weekends," said Lisa Davis, manager of Community Impact, JM Family. "Associates and their family and friends from all over the company joined forces to protect, preserve and clean up America's beloved outdoor spaces."
As some of the company's first in-person impact initiatives since the pandemic began, these projects were an opportunity to renew JM Family's commitment to local communities while safely remaining in open-air settings. Here's a look at some of the NPLD projects hosted across the enterprise:
Alpharetta, Georgia
DataScan joined the annual Rivers Alive event, hosted by the City of Alpharetta, by cleaning up the greenway, wetlands, streams and roadways in Rock Mill Park.
Commerce, Georgia
A team of associates used Community Impact Time Off to clean up the trails at Hurricane Shoals County Park. This was an especially helpful volunteer event because it prepared the park for a music festival hosted by JM Family and Southeast Toyota Distributors' nonprofit partner, Tumbling Waters Society.
Jacksonville, Florida
Teams tackled two projects at Tree Hill Nature Center. Some focused on the Arlington Community Garden, which has been providing fresh produce to local food pantries for nearly a decade. Volunteers restored produce production by amending soil, replacing beds, installing irrigation and eliminating weeds. A second group installed a new Potbelly Pig Exhibit (supplies also sponsored by JM Family and Southeast Toyota Distributors) to give children an up-close look at these animals while they learn about the vital role they play in our ecosystem.
Mobile, Alabama
In partnership with the Mobile Bay Keepers, 43 associates and their guests enjoyed the sunshine while they cleaned up Langan (Municipal) Park.
South Florida
Associates broke up into small groups to landscape and rebuild part of the six miles of mountain bike trails at Quiet Waters Park in Deerfield Beach. Volunteers removed low-hanging branches and smothering vines on trees across 1,000 feet of land and trail. Eradicating the vines allows the trees to breathe and grow, providing shade and a beautiful, natural structure around the mountain bike trails.
St. Louis, Missouri
Volunteers joined the City of St. Peters Parks and Recreation Department to clean up City Centre Park.
In total, 117 associates and their family and friends donated more than 350 hours to benefit six green space organizations.
About JM Family Enterprises, Inc.
JM Family Enterprises, Inc. was founded by automotive legend, Jim Moran in 1968. It is a privately held company with $18 billion in revenue and more than 5,000 associates. Rooted in automotive and united in its strong culture and core values, JM Family is in the business of helping other businesses succeed. As a long-term partner, it is invested in its companies, associates and its communities. Driven by exceptional performance, current subsidiaries are in the automotive, financial services, franchising and specialty distribution industries. Its family of companies includes: Southeast Toyota Distributors, the world's largest independent distributor of Toyota vehicles; JM&A Group, a company committed to improving automotive dealers' performance by offering Finance & Insurance products and services, dealership training and consulting; World Omni Financial Corp. (dba Southeast Toyota Finance), a captive financial services company driven to delivering an exceptional dealership and customer experience for Toyota customers in the Southeast; JM Lexus, one of South Florida's leading Lexus dealers; Home Franchise Concepts®, a multi-brand franchise network consisting of Budget Blinds®, The Tailored Closet™, PremierGarage®, Concrete Craft®, AdvantaClean®, Lightspeed Restoration™, Kitchen Tune-Up®, Bath Tune-Up®, Two Maids® and Aussie Pet Mobile®; and Futura Title & Escrow, a family of leading independent title and escrow companies which includes Alliance Title & Escrow, AmeriTitle, Pacific Alliance Title, Kittitas Title and Escrow, and Momentum Title Agency; and Rollease Acmeda, a leading specialty distributor of window covering systems.
Interact with JM Family on Facebook, Instagram and LinkedIn.
Media Contacts
Christie Caliendo
Director, Public Relations & Integrated Marketing